Abs vs The Blood Queen announced – single-player Killer Queen game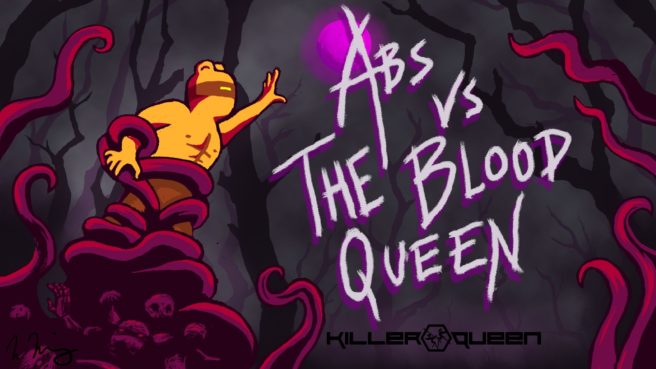 BumbleBear Games has announced Abs vs The Blood Queen, the first single-player game in the Killer Queen franchise. The studio is hoping to release the game on Switch later this year.
Here's a proper introduction to Abs vs The Blood Queen, along with a trailer:
Designed for veterans and newcomers to the Killer Queen Universe, Abs vs The Blood Queen provides a practice space for returning worker bees as well as a fun and engaging entry point. Control the titular Abs as he outruns a terrifying wall of undead warriors and repeatedly clashes with a twisted, maniacal version of the game's most iconic character, the Blood Queen.

Call upon the technical skills and maneuvers utilized in high-level Killer Queen play to survive — ride the snail, earn wings as a powerful Warrior and grab Berries to discover hidden abilities and secret rooms. Test those abilities in devious new ways while further developing or refining a Killer Queen skillset to transition seamlessly back into arcades once they are back in business!

Procedurally-generated levels, global leaderboards, and tantalizing "just one more run"-style gameplay make Abs vs The Blood Queen the friendly competition currently missing from the world and arcades. After launch, BumbleBear plans to continue to update the action platformer and introduce it to arcades in its own cabinet. Some of the new features and artwork made for the game will eventually find its way into Killer Queen's arcade edition.

As developers at the forefront of the Modern Arcade, BumbleBear Games shaped its vision and talents around cultivating the physical, real-world space arcade games inhabit. Community, camaraderie, love and support for arcades and other small businesses — all remain on hold while the country bands together to try and stop the spread of COVID-19.
Abs vs The Blood Queen is up on Kickstarter with a $33,000 funding goal here. If a $55,000 stretch goal is reached, it'll arrive on Switch this fall.
Source: BumbleBear Games, PR
Leave a Reply