Action adventure game Zorro: The Chronicles announced for Switch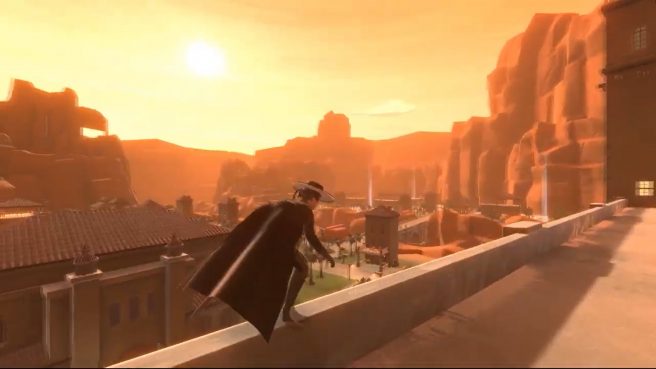 Bkom Studios and PVP Games have announced Zorro: The Chronicles, an action adventure title based on the CG animated series of the same name. It will launch this fall on Switch and other platforms.
Below are the first details, along with the debut trailer:
Zorro: The Chronicles is an exciting and humorous action game featuring combat and exploration gameplay inspired by the likes of Arkham Asylum, Spider-Man and Assassin's Creed. Zorro will be the only console game on the market for the 7+ demographic delivering a high-quality experience usually found in games for more mature players.

Play as Zorro or his sister Ines. Protect the weak and the innocent from the evil general and his army. Bring justice back to nineteenth-century Spanish California.

Become a master swordsman. Disarm your enemies with a whip, a sword, spectacular moves and a sense of humor! Deflect their attacks with acrobatic moves and lightning-quick reflexes. Leave your mark on them with a 'Z' from the tip of your sword!

Adventure awaits! Swashbuckling fun! Spectacular moves and hilarious fights!

Live A Hero's Life and Fight For Justice
Play as Zorro or his sister Ines. Develop your hero skills by unlocking better stats, new moves and talismans.

Master your art and become the best swordsman in Spanish California!
Experience an hilarious and friendly sword fight system with spectacular and humorous finishing moves.

Play As You Want
Adapt your approach to a wide variety of enemy types. Use your stealth to take your opponents by surprise, sneak around them to explore your surroundings, or engage them in action-packed sword fights.

Great Adventure, Great Visuals
Embark on an epic journey through nineteenth-century Spanish California, presented in beautiful background designs inspired by the hit animated TV series "Zorro: The Chronicles".

Colorful Cast Of Characters
Interact with a wide cast of unforgettable characters from the "Zorro: The Chronicles" animated TV series. Some of them will stand in your way as wicked opponents, while others will help you in your fight for justice.
Fans can access the official website for Zorro: The Chronicles here.
Source: Bkom Studios PR
Leave a Reply