Activision community manager says Call of Duty: Ghosts is "more science than science fiction", relating to 'Rods from God'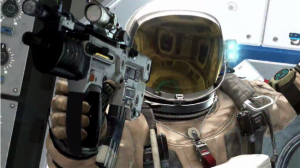 ---
The single player trailer for Call of Duty: Ghosts that was revealed yesterday showcased a bit of the story that we didn't know about previously: Something called 'Rods of God' would be used as the stage for the apocalyptic events in the game. 'Rods of God' are effectively just giant cylinders dropped from low-earth-orbit that smack into the ground and cause mass devastation– and Activision community manager Dan Amrich says it's not terribly fictional:
---
"Telephone poles from space? It's actually more science than science fiction. The concept of kinetic bombardment – nicknamed in the science and defense communities as "Rods from God" – has been used in sci-fi stories for years by authors including Robert Heinlein, Larry Niven, and Neal Stephenson, but it's also been seriously considered by the United States Air Force as a military strike that could create mass devastation without nuclear fallout."

"Say what you will about its over-the-top gameplay and action-movie attitude, but Call of Duty still plays in the realm of plausibility."
– Activision community manager Dan Amrich
---
You can read more from him here.
Leave a Reply