Atari outlines RollerCoaster Tycoon Switch features – modes, tech specs, more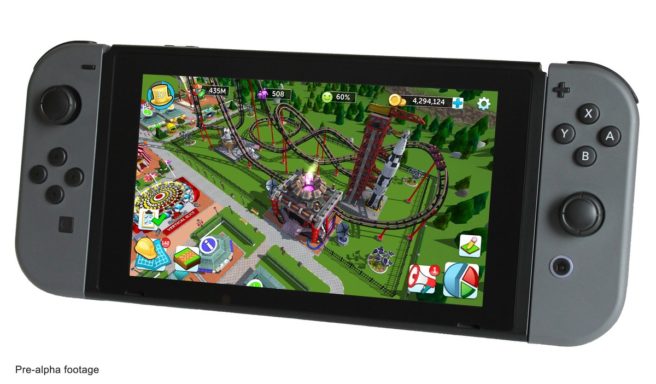 Atari has posted an update on its StartEngine campaign page for RollerCoaster Tycoon on Switch. Thanks to that, we have a better idea as to what the company has in store for the game. Atari goes over planned features, tech specs, and more.
Three modes are currently in the works for RollerCoaster Tycoon on Switch. These include a Campaign Mode, Scenario Mode, and Sandbox Mode. You'll also have access to seven types of customizable roller coasters with Ride Cams, four environments, over 120 rides, and more. As far as tech specs go, Atari is targeting 1080p docked and 720p in portable mode at 30 frames per second.
Here's the full feature set:
3 Game Modes – Campaign, Scenario, and Sandbox:

Tycoon Campaign Mode – The main mode of the game: Research and discover wild new rides and attractions, expand your land, and grow from a humble park to an Amusement Empire!
Scenario Mode – Complete 16 tricky objectives with specific time limits and other constraints. Each scenario has 3 difficulty levels and rewards to unlock.
Sandbox Mode – Create the park of your dreams in four environment types with unlimited time and unlimited resources.

7 types of fully customizable roller coasters with Ride Cams: Wooden, Steel, Winged, Hyper, Inverted, Dive, and Accelerator.
Over 50 vivid colors to customize rides, roller coasters, shops and restaurants to your liking.
A variety of adult and kid peeps with fun animations – even on rides and roller coasters!
Park terraforming with pre-made path, foliage & river tiles. Create forests, lakes and rivers!
4 Environments:

Alpine – Hit the slopes with this beautiful, mountain-topped map. Watch out for caribou!
Oasis – The desert heat shimmers off the sand in this deadly paradise – but the cooling palms and spring of the oasis sure help!
Canyon – It's time to hit the dusty trail and rustle up some varmints in this Western-themed environment.
Tropical locales – Buried treasure and pirates galore are found among this timber-shivering island map.

Over 120 wacky rides, restaurants and shops, from the humble Merry-go-Round to the death-defying Roto-Drop, all featuring advanced shaders and effects.
Intuitive JoyCon or Touchscreen Controls allows you to play the way you want.
Seamless play between dock mode and handheld mode. Plug, unplug and continue to play!
Multiple save slots to experiment with different game modes or share the game with family members.
Runs at 1080P @ 30FPS docked, and 720P @ 30FPS in handheld mode.
Thanks to AwesomePlatter for the tip.
Leave a Reply