Bassmaster Fishing 2022 – Super Deluxe Edition gets surprise release on Switch today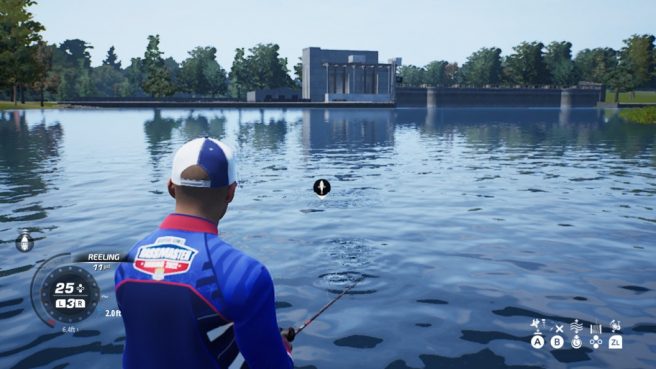 Dovetail Games announced today that Bassmaster Fishing 2022 – Super Deluxe Edition is coming to Switch. Not only that, but it's releasing today in North America and Europe. Those in Japan and South Korea will gain access on July 7, 2022.
On Switch, Bassmaster Fishing 2022 – Super Deluxe Edition supports motion controls with the Joy-Con, "delivering maximum immersion as players feel every flick of their wrist as they cast their lines out into the bass-filled waters." The game features ten officially licensed Bassmaster Elite Series anglers such as the title star Scott Martin, though players can create their own character as well.
The Super Deluxe Edition contains Deluxe Edition Upgrade Pack. All players will receive exclusive Deluxe B.A.S.S. equipment and clothing plus four DLC bundles – the Predator and Elite Fishing Equipment Packs with each introducing new cosmetics and fishing gear for anglers, along with the Bass Lake Bundle and Lake Hartwell DLC, home to the Bassmaster Classic 2022.
Here's some information about the game:
Bass fans will begin their careers in the College Series, mirroring where many professional bass anglers got their start, working their way up through Bassmaster Opens, Elite Series events, and eventually earning a spot in the coveted Bassmaster Classic. Anglers will be able to unlock and upgrade additional gear and boats as they progress through the Career Mode of the game to help them on their journey, and new customizable outfits for their characters to show off their personality in-game. With all five DLC's included, players have a wealth of cosmetic customizations and 11 real-world venues to fish, ranging from the largemouth hotspots of Chickamauga Lake to the dense backwaters of the Sabine River.

Bassmaster Fishing 2022 – Super Deluxe Edition takes a new twist on the battle royale mode popular in many multiplayer games today, 'Bassmaster Royale'. This thrilling game mode challenges anglers to be the last player fishing, competing against each other and the clock to avoid being eliminated. Multiplayer also includes 'Freedom Fishing' mode perfect for relaxing in a non-competitive mode with friends online. The Switch system version requires Nintendo Switch Online and does not support cross-play with other platforms.
View a trailer for Bassmaster Fishing 2022 – Super Deluxe Edition below.
Bassmaster Fishing 2022 – Super Deluxe Edition can be purchased for $44.99 / €39.99 / £34.99. A 50 percent discount will last until July 6.
Source: Dovetail Games PR
Leave a Reply