BitSummit Gaiden 2020 announcements – Melon Journey 2, Neon Noodles, Skul: The Hero Slayer, more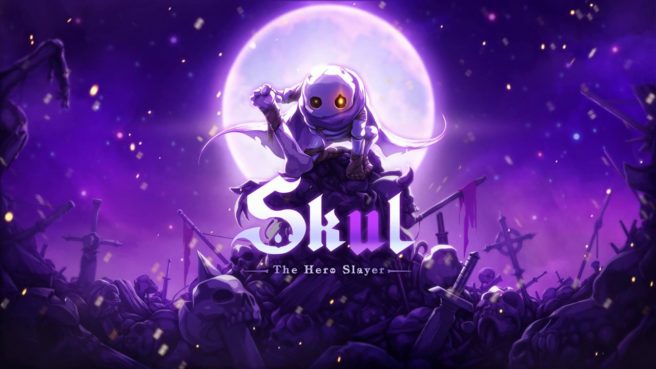 BitSummit is ditching its traditional in-person event this year due to the coronavirus pandemic, but the online-centric BitSummit Gaiden 2020 event will be held in its place. The official website has now opened, and a bunch of new games have been listed for Switch.
Here's the full roundup:
Dungeon and Gravestone

Death and resurrection, death and resurrection. There is a world full of grief and sadness, were only end of life is certain. In this world, there is a city where people take annihilation for granted, and this city is grim like an empty shell. Who am I? Just stepping into the dungeon in front of me… Rogue-like RPG where one dies over and over again. Generated dungeons are full of difficult traps and puzzles. Putting one's life on the line, player is challenged with over 500 quests, weapon and item collection, fishing. How deep can you dive? Defy the unprecedented dungeon automatic generation algorithm! Finally find out what lies beyond the deep dungeon…

Gardeniampoule

Gardeniampoule is a "Dungeon-Farming Rougelike game" where you can enjoy cultivation and item collection.

Alchemist Irene, protagonist, got a second-hand dungeon through a mail-order shop Mer-Curi. She explore it and chase a mystery of a murder case which happened there.

This game is a dungeon crawler RPG. You can not only grow the player character but feel the joy of item collection and crawling smoothness by "Farming of the dungeon" which makes it satisfy your demand.

Glimmer

Glimmer is a platform game tells the story that a spirit from the dark and deep sea world was called by the light and leaving the deep sea to pursue the light and finding himself.

In addition to jumping and climbing walls, the elf has the ability to fly freely in any direction for a period of time, but this ability can only be used once before recharging. It can only be recharged after landing again or encountering specific game mechanics.

Players need to control the spirit from the deep sea to avoid touching various deadly obstacles while proceeding to the end.

In each chapter of the game, players will encounter a variety of game mechanisms designed with their own concepts at the core.

Glimmer is in development and this game will contain four main chapters and the prologue of the game, with about 150 carefully designed levels and some beautiful game performance scenes.

Jack Move

Jack Move is a unique blend of gritty cyberpunk story telling, turn based battles and beautiful modern pixel art. Take on the role of Noa, a vigilante hacker determined to rescue her kidnapped father and take down the overreaching Monomind corporation.

Jack Move will be available on Steam and Nintendo Switch in 2021. Wishlist on Steam right now!

Story:

They whisper her name on the streets: Solares. A mysterious veteran of the Data Wars, Noa Solares keeps the fight against the Corporations alive as a vigilante hacker-for-hire, empowering the downtrodden and undermining those with power.

When she receives an emergency message from her estranged father – the eccentric Dr. Abner Solares, whose wife's death spurred him to become the leading researcher of 'digital reanimation' – Noa is thrust into a world of murder, kidnapping, dark research, and the corporation that would steal it for their own ends: Monomind.

What starts as fight to save your father will become a fight for the future of mankind itself…

Cyberspace Battles:

Jack Move features beautifully animated, exciting and tactical turn based battles.

Customise the software of your Cyber Deck to switch roles mid battle, balancing offence, defence and buffs. Choosing which software you load during battle is the key to victory! Hardware upgrades can help boost your stats, increase the amount of software you can install or give Noa extra abilities.

Features:

Gorgeous "Hi-Bit" pixel art inspired by retro RPG's and enhanced with modern techniques.
Battle your foes in cyberspace. Take them down using a multitude of sweet hacking software.
Explore the dangerous world of Monocity-1 and take down Monomind, the evil mega corporation that controls it.
Play as Noa Solares, a sassy hacker out to save her father and the world.
Fight your way through a bunch of dungeons filled with allsorts of cyberpunk villany. Street punks, gangsters, corporate militia, secret service agents, and horrific cyber-experiments-gone-wrong will all be battling against you!

LightDread City

"Lightdread City" is a turn-based puzzle-solving game. In this world, Light was forbidden. But because of the met with the Secret Knower, You, Carina, began the journey of truth hunting by using a significant roulette to unmask the secret of light.

The game features a table-top-like input system that requires player to drag and drop the chess, which is the representation of the player, with their mouse or touch panel and spin the ring shaped floor panel in order to simulate the feeling that they are playing on a real table-top game and get a better user experience. We plan to publish the game on both personal computer and mobile platforms in the hope of bringing the experience to more players.

Melon Journey 2

Travel to Hog Town, a city populated by hedgehogs, cats, dogs, hamsters and a variety of other animals, on a search for your missing friend. Meet a gang of thieves, and get caught up in the intricate lives of the townsfolk during an important election. Find out why melons are illegal and hope that you don't end up on the wrong side of the law!

"Melon Journey 2 is a story-exploration game about revisiting a town full of adorable animals with eccentric personalities. Yet under its cute and nostalgic surface lies a dark tale of crime and corruption…

Play as Honeydew, an employee of a huge melon factory, and travel to Hog Town where melons are illegal. While searching for a missing friend, you'll have to explore the town and its surrounding areas, and speak with suspicious characters in dangerous situations to uncover the truth.

Metal Unit

Metal Unit tells a tragic story of human survivors and their battle against monsters and machines to regain control of their planet.

The Earth is under siege from all directions, with ancient beings emerging from underground and alien machines descending from space. The fate of the planet hangs in the balance, but you can help tilt the odds by playing as Joanna, a new soldier capable of wearing the powerful M-Unit suit. Follow Joanna on her epic journey to save humanity and get revenge on her traitorous sister that has taken up arms with the alien race.

Key Features:

Action-Packed Battle System – You can dash to evade enemies or go on the offensive and chain multiple weapon attacks together to perform devastating combos. The wide range of melee and ranged weapons at your disposal also give you the ultimate flexibility to take out enemies any way you see fit.

Huge & Diverse Environments – You can choose to explore the sprawling surface of the planet or delve deep inside mysterious dungeons. Traveling around the world will progress the story while going underground offers bigger rewards that may come at a heavy price…

Your Decisions Matter – The characters in Metal Unit will suffer through corruption, betrayal, and death. But your decisions carry significant weight in key dialogues and certain actions during the game.

Roguelite Elements – Upon death the game will convert all equipped items into permanent research points. The points can then be used to unlock new items and skills. You will constantly receive weapons of varying utility and will need to adapt your strategy to match your current equipment.

Mørkredd

Morkredd is a co-op puzzle adventure game where darkness kills. Your goal is to ferry a glowing orb of light through a dark world full of obstacles without getting in the shadows from you environment or your fellow player(s).

Mon Amour

Onion Games presents… a brand new insta-death kissing game!
One fateful morning, three love-hungry witches appeared before Baron Soisoir, of the Çavaçava Kingdom.
In an instant, all of the kingdom's citizens were whisked away to Babastille, the world of nightmares.
It's your time to shine, Baron Beard! Rescue everyone with your kiss!

Neon Noodles

Set in a dark and mysterious cyberpunk world, you are in charge of the futuristic food factory known as Neon Noodles. Inspired by the open-ended machine-building puzzle games of Zachtronics such as Opus Magnum and Infinifactory, you design and build your own fully automated kitchen to prepare meals using robot chefs. Guacamole, bibimbap, ramen, spaetzle, paella and many more recipes are waiting for you to be optimized.

FEATURES

Automate your robot chefs through an intuitive record-and-replay system where you control the robot that creates the program, then edit it later if needed.
Customize your cooking loops to be as simple, elaborate or streamlined as you want and compare your wits with other players around the world on the global leaderboards.
Solve endlessly replayable open-ended puzzles with over 100 recipes from around the world consisting of 200 unique ingredients.
Travel the world and master the art of cooking through technological advancement in a cyberpunk setting with plenty of brainwrecking levels.

Neversong

A unique puzzle-action adventure woven into a hauntingly dreamlike fable. Take on the role of Peet and venture through a bizarrely mirrored world comprising vibrant and olorful landscape on one side, and somber yet horrifying scenery on the other – a world that embodies the sorrowful and exquisitely deep narrative. Peet must use both mental and physical skills to solve the mystery behind the story, in which he encounters a vast and eclectic gallery of characters offering myriad unlockables to be discovered.

Features and USPs:
– Eye-catching art style and character design illustrated utilizing a unique pairing of darkness and cuteness, featuring monster designs inspired by Gorey and Kenn.
– Classic game mechanics inspired by old school adventure games such as The Legend of Zelda, each level translated with unrivaled passion for detail into a riveting 2D side-scroller.
Powerful and captivating soundtrack composed by the creator himself, heavily influenced by Debussy's "Claire de Lune" and Chopin.

Olija

In this 2D odyssey, the player will live the destiny of Faraday, a castaway trapped in the mysterious and uncharted lands of Terraphage.

This adventure will lead him to meet Olija, an enigmatic lady to which he is bound to.

A master of the blade, an old boatman, an unforeseeable yellow cloak spirit… Armed with a legendary harpoon, Faraday will face a hostile world of ancient creatures and strange residents.

From an unsettling mangrove to a wasteland of old ships, explore the uncharted and inhospitable islands of the mysterious Terraphage world.

Your journey will lead you to the discovery of an artefact that will be key to your survival in this hostile environment…

Rhythm Fighter

This is a Roguelike Horizontal Action game that players need to follow the beat to defeat opponents. Beat to follow, fist to the bone. Face the foe, and dance to kill!

Story
Commander Chaos, the most infamous Beatarain in this universe. Finally, he set his mind on the Planet Earth, and destroy the peaceful life of animals and vegetables. He use dark Beat Energy, and turn all the lovely vegetables into evil minions in a blink. They wreak havoc all over the world. Countless animal heroes have sacrificed. The evil purpose of Commander Chaos will succeed in an instant.

At the critical moment, a mysterious man, Mr. Disco, who also came from Beatara, has befall this planet. He use bright Beat Energy and revival all exhausted heroes. With all the help from this mysterious force, heroes gradually mastered a way to defeat darkness. They can follow the beat! Then, they embark on a journey to save the planet. But the true purpose, no one knows…

Side-Scrolling Rhythm Action Game
Rhythm Fighter is a hardcore game that combine 2D Roguelike with rhythm. In this game, you need to follow the beat, fist to meat. At the same time, you need to pay attention to move, roll, batter, etc. You need to face strong opponent and show your courage, create your signature move.

Start the game, go to the battlefeild, and follow the beat!

Roguelike
Randomly generated battlefield, special room that full of surprise, hundreds of cool skill and different weapons presented in front of you. What are you waiting for?

Beside Roguelike, you can also cultivate your heroes, and grow up with your heroes together.

Numerous Combinations
DJ, agent and pupils, etc. We continually update all kinds of heroes. There are various choices for you! From character design to style, from skills to operating, they all have their own features. It is too hard to refuse!

With numerous combinations of skills and weapons, you can show the most astonishing playing method and shock the world!

Hundreds beat cards for you to use. Superimpose them after you get beat cards. Limitless card you can build, limitless happiness you can get.

RP7

RP7 is a minimalist and abstract dungeon crawler.

You can control your knight INDIRECTLY, by rolling each slot.

There are tons of fun adventure in the dungeon.

There are tons of secret item in the dungeon.

There are tons of monster in the dungeon.

There are tons of secret in the dungeon.

Skul: The Hero Slayer

The Demon King's Castle in Ruins

The human race attacking the Demon King's castle is nothing new and has happened countless times before. What makes this time different though, is that the Adventurers decided to join forces with the Imperial Army and the 'Hero of Caerleon' to lead a full onslaught in hopes of wiping out the Demons once and for all. They attacked the Demon stronghold with overwhelming numbers and succeeded in its total destruction. All of the demons in the castle were taken prisoner except for one lone skeleton named 'Skul'.

Side-Scrolling Platformer Action

'Skul: The Hero Slayer' is an action-platformer that boasts rogue-like features such as everchanging and challenging maps. It will keep you on your toes, as you will never know what to expect.

Tons of skulls, tons of playable characters

Skul is no ordinary skeleton. In addition to his formidable fighting skills, he can gain new and exciting abilities depending on which skull he's wearing. Use up to 2 skulls at a time, each of which has its own unique attack range, speed, and power. Choose combos that match your playing style and switch them in the heat of battle to bring your enemies to their knees. The power is in your hands!

The Adventurers

Skul has crossed paths with a party of Adventurers! They are powerful foes that hunt Demons for sport. While Skul may be small, he still packs quite a punch. So just wait and see who really is the hunter and who is the hunted…

Bosses Corrupted by Dark Quartz

At the end of every chapter, go head-to-head with massive bosses corrupted with Dark Quartz and powerful beyond belief. Derived from the pain and hate of life itself, Dark Quartz taints and takes control of everything it touches.

Stray Cat Doors 2

An escape adventure game with a cumulative total of 1 million downloads worldwide The latest work from "Stray Cat Doors" is finally here!

Let's travel again with a girl in a white cat hat.

Based on the opinions of users of the previous work, the number of stages, bonus elements after clearing, We have greatly increased the volume of item collections.

Also, in this work you can explore the stage with the operating character, You can change the costume of the operating character and enjoy dressing up, It is now possible to customize the room to your liking.

Continuing from the previous work, a cat character will also appear.

Please be healed by the cute actions of the cats.

TopplePOP: Bungee

TopplePOP is physics puzzle action with bendy animal acrobats on bungee cords, for 1-4 players. Designed for solo and team play, in eSports battles, speedrun leaderboards & spectacular couch co-op parties. Become champions! Or don't, and chill with an endless variety of zen puzzles.

Trick Art Dungeon

a Combination of trick art and game
Trick Art Dungeon is an optical illusion puzzle adventure game that uses trick arts.
In Trick Art Dungeon, each stage has its own unique trick arts and features where imagination and reality meet.

What isTrick Art Dungeon?
Trick Art Dungeon is the journey of a child who is looking for his missing parents. Travel between imagination and reality to guide him back to his parents.
Every moment of following the traces of his parents will be full of surprises and amazing experiences of trick arts and game features.

Unforgettable Story
Mysterious experiences as you follow the traces of the missing parents.
See the emotional changes the child experiences.

Emotional graphics and sound
Experience the unique atmosphere of Trick Art through various themes of the low polygon graphics and classic sounds.

Simple controls but thrilling actions
Anyone can enjoy this game with simple touch and swipes.
BitSummit Gaiden 2020 will take place on June 27 and 28. Access the official website here.
Leave a Reply