Blade Runner: Enhanced Edition announced for Switch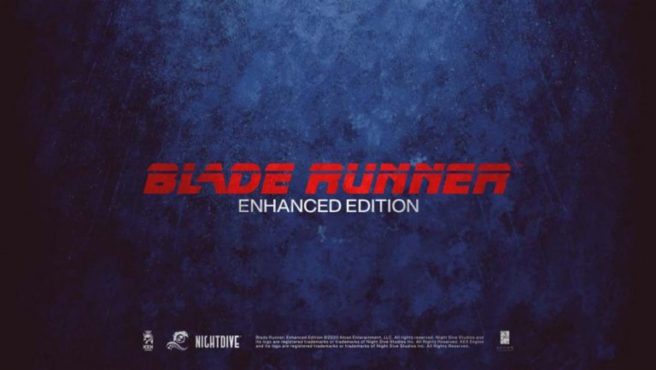 The 1997 point-and-click adventure title Blade Runner is making a comeback on Switch. Nightdive Studios and Alcon Entertainment are restoring the game for release on modern platforms, including Switch.
Known as Blade Runner: Enhanced Edition, it'll feature a "polished and premium restoration" made with Nightdive's KEX game engine. Fans can look forward to updated character models, animations, and cutscenes There will be other additions as well such as widescreen resolution support.
Larry Kuperman, head of business development at Nightdive, confirmed to Hollywood Reporter that the original source cost was lost. "We painstakingly reverse-engineered the code, importing it into our own KEX engine, a powerful tool that allows us to do console ports of classic titles, even in the face of quite challenging situations," Kuperman said.
Nightdive CEO Stephen Kick also mentioned:
"Blade Runner is still a jaw-dropping achievement on every level, so while we're using KEX to upgrade the graphics and respectfully elevate the gaming experience in a way you've never seen before, we're still preserving Westwood's vision and gameplay in all its glory. While you can enjoy the benefits of playing the game on modern hardware, the game should look and feel not as it was, but as glorious as you remember it being."
Here's some information about Blade Runner:
In 1997 Westwood Studios released a title that won universal praise from gamers and critics all around the world, along with accolades like AIAS's Adventure Game of the Year award. Set in the same time and universe as the 1982 classic science fiction film by Ridley Scott, Blade Runner video game is now making a big comeback on modern computers.

In the game, you take the role of detective Ray McCoy. Armed with your investigative skills and tools of the Blade Runner trade, you must roam the dark, rainy streets of Los Angeles A.D. 2019 in pursuit of androids gone rogue.

Searching for those so-called replicants is a tough nut to crack because they look and behave almost exactly like real people. Faced with growing moral dilemmas, McCoy will soon have to answer questions about his own humanity.

Features:
– Immerse yourself in the dark, gritty world of Los Angeles 2019, where you become both the hunter and the hunted.
– Explore over 100 interactive environments including sets from the Ridley Scott's 1982 movie.
– Take part in a non-linear story that creates a unique experience every time you play.
– Interact with over 70 motion-captured characters, all with their own AI and agendas.
– Witness the climatic noir-style visuals, engulfed in smoke and rain.
– Recognize the Hollywood cast from the original film including Sean Young, James Hong, Joe Turkel, Brion James, and William Sanderson.
– Listen to the ambient, multi-track audio and hear the music which includes specially recreated cuts from the original Blade Runner soundtrack.
– Step into the role of detective Ray McCoy and utilize Blade Runner tools you know from the movie. Use ESPER photo analysis machine to distinguish replicants from humans, and analyze all case clues with the Knowledge Integration Assistant.
And a look at the game:
Leave a Reply