Buddy Simulator 1984 getting a physical release on Switch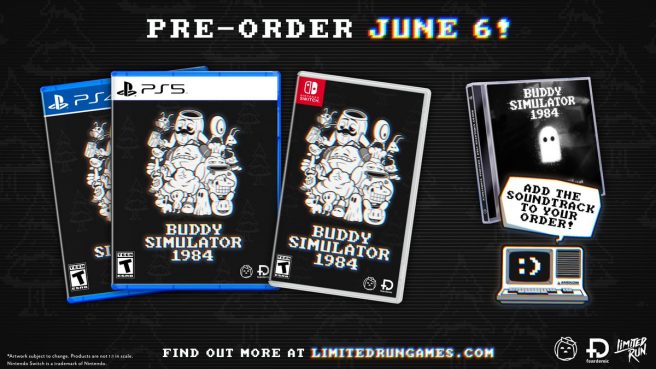 Buddy Simulator 1984 has previously been on the Switch eShop, but a physical release is now happening as well. Limited Run Games will be offering it through its distribution line.
Only a standard version of the game will be available. There are no plans for a special edition at this time.
Buddy Simulator 1984 first launched on Switch in October 2022. Read more about it below.
Thanks to next-generation AI technology made in the new Anekom OS, BUDDY SIMULATOR 1984 simulates the experience of hanging out with your best buddy!

Your best buddy learns from you, constantly adapting to your interests and personality.

Say your favorite color is green, of course, your best friend will remember!

Thanks to the latest and greatest graphical software, our top video game scientists were able to find a way for a computer to play games with you, talk to you, and become someone you can really trust!

Key Features

Video Game Hub! – Can you beat your buddy in an intense game of rock, paper, scissors? What about a dangerous game of hangman?
AI Learning! – Your buddy will evolve to better adapt to your interests and make sure you are having fun together!
New and Unique Experience! – Your experience with Buddy Simulator 1984 will be unique and unlike anything you have ever played before!
Pre-orders for the physical version of Buddy Simulator 1984 for Switch open on June 6, 2023. Limited Run Games will have reservations here.
Leave a Reply