Cat simulation RPG Cattails making its way to Switch next month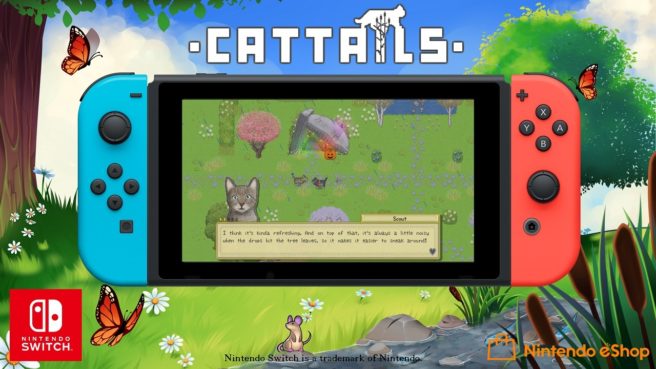 The cat simulation RPG Cattails is coming to Switch, Falcon Development announced today. It'll be coming to Nintendo's console on November 29. This marks the first time the game will be released outside of the PC gaming market.
Here's an overview and trailer for Cattails:
Become a cat! Hunt, fight, explore, and socialize in an expansive open world.
Cattails is a unique animal simulation RPG with light survival elements.

Play as a feral cat that roams an expansive wilderness. Hunt for food, fight cats from other colonies, and become friends (or enemies!) with your neighbors. Romance one of twelve eligible cats, raise a family of cute kittens, and train them by taking them with you on your adventures! Or, delve into dark caverns to find treasures. Just make sure you always have some food on hand in case you get hungry.

Features
– Join one of three unique cat colonies and become friends or enemies with its residents
– Hunt for mice, squirrels, rabbits, and more anywhere throughout the open world
– Find new treasures in the wild as the seasons change
– Date and marry one of twelve eligible cats
– Raise a litter of kittens and bring them with you on your adventures
– Dig for riches in dangerous caves
– Fight in battles to secure your colony's land claims
– Hundreds of unique ways to customize your cat's coat & eye colors and accessorize
– Upgrade and customize your personal den
– Fun seasonal festivals where you can compete to win prizes
– Create your own colony of cats and customize it to your liking
Cattails will be sold on Switch via the eShop.
Source: Falcon Development PR
Leave a Reply