Chippy & Noppo, puzzle action game, coming to Switch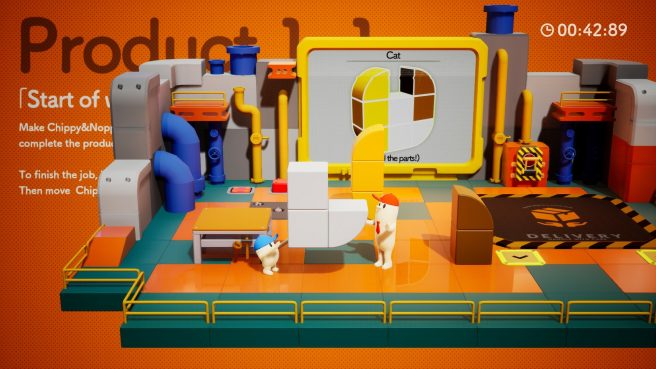 Today, O-Two and Peakvox announced that they're putting Chippy & Noppo on Switch. The puzzle action game is due out on March 9, 2023.
Learn more about it in the following overview:
Chippy and Noppo is an action puzzle that assembles parts into a toy! Collect the parts in the factory, process the colors and shapes, and make the same toy as the blueprint. Even if it's a little different, you might be able to clear it…!? Because the factory manager is a bit careless.

Cheerful "Chippy" is good in low places. Tall and easy-going "Noppo" is good at jumping. The key to clarifying the game is the cooperation of both, using their individuality to split roles, and more!

In solo play, operate two guys at the same time! Operate well and aim for the fastest clear! In multiplayer, operate "Chippy" and "Noppo" respectively. This is a place where you can chat, so let's play while talking to friends and family!

The factory is full of machines! Let's make full use of the machine by processing the color and shape of the parts, using them for moving, and more!

There are also factories that need action, like climbing high scaffolds, getting around at the right time, and not just assembling!

Progress in the game, factories in the woods and seas will appear! Let's assemble a toy that matches the image of the factory!

What kind of toys are those two really good friends going to make, and what kind of future are they going to make?
Get a look at a trailer for Chippy & Noppo below.
Chippy & Noppo should arrive digitally on Switch as an eShop download. A price point has not been announced at this time.
Leave a Reply