Coffin Dodgers on the way to Switch next month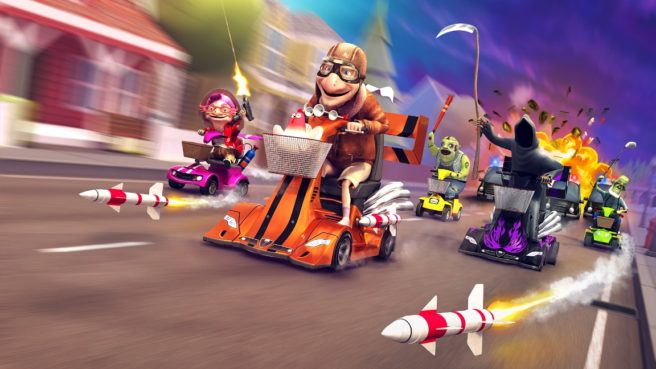 Wales Interactive and Milky Tea Studios have announced that the dark comedic kart racer Coffin Dodgers is coming soon to Switch. As an eShop title, it'll be out on March 13.
Coffin Dodgers lets you play as a quirky retirement village resident and use various upgradable homemade weapons. Up to four-player local multiplayer is supported.
Here's more on Coffin Dodgers plus a trailer:
Coffin Dodgers sees life in the slow lane become a fast and furious race for your soul! Take on the role of one of seven quirky retirement village residents, each racing on their very own pimped-up mobility scooters, armed with a variety of upgradable homemade weapons and gadgets to take on anything the Grim Reaper and his army of zombies throw at them.

With a 2-4 local multiplayer mode you can actively battle and knock your friends from their mobility scooters, get tangled up in epic crashes and cause mayhem! What's more, experience the 3D open-world "Crazy Granddad" mode where you race against the clock in the entire Sunny Pines district.

The "Road Rash" style player-to-player combat features wacky weapons and collectable destructive power-ups to stop your mates in their tracks. Watch your frail backs though as you're never too far away from an EMP powered defibrillator!

FEAURES
– Race & battle the Grim Reaper and his army of zombies
– Local multiplayer versus race mode (2-4 players)
– Customise and modify your mobility scooter
– Player to player combat & rag doll physics
– 13 unique race tracks
– Single player Story and Time Trail modes at 60fps
Source: Wales Interactive PR
Leave a Reply