Cotton Guardian Force Saturn Tribute confirmed for physical release in the west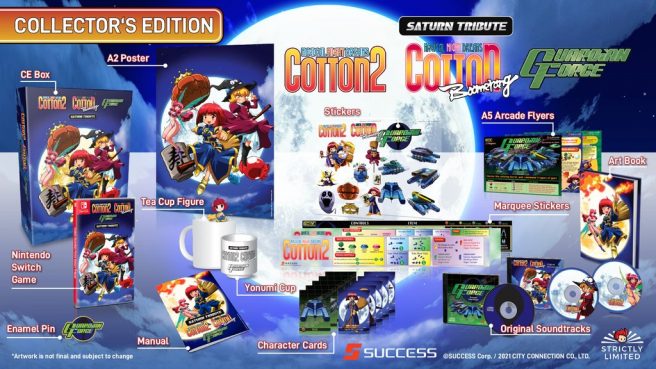 Strictly Limited Games will offer physical versions of Cotton Guardian Force Saturn Tribute in the west, it's been revealed.
The game will be available in two forms. First up is a limited edition, which only comes with the game and a manual. There's also a fancier collector's edition containing the following:
A copy of the game
Collector's Edition box with magnetic latch
Colorful game manual
Hardcover art nook (A5)
Reversible large poster (A2)
Three arcade flyers (A5)
All three Original Soundtracks
Exclusive Yunomi cup
Cotton tea cup figure
10 character cards
Guardian Force Enamel Pin
Three marquee stickers
Large sticker set
Pre-orders for the physical version of Cotton Guardian Force Saturn Tribute open on October 17. 2,500 copies of both versions will be available. You'll be able to put in a reservation here.
Cotton Guardian Force Saturn Tribute features Cotton 2, Cotton Boomerang, and Guardian Force. These titles just made their way to Switch a couple of weeks ago, though only as digital downloads. The new physical versions should be available later in 2021.
Leave a Reply