Countryside romance adventure game Love on Leave announced for Switch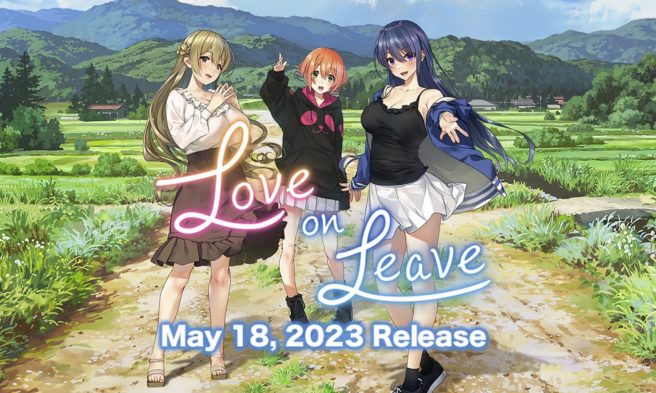 Original (4/26): Today, Qureate and Orgesta revealed Love on Leave for Switch. A release is planned for May 18, 2023.
Love on Leave is a countryside romance adventure game. We have a ton of additional details as shared by the official website below.
You have some paid time off and decide to use it to return to your roots in the countryside.

But you didn't expect to end up entangled with three beautiful sisters who you haven't seen since childhood!

With the exception of event screens, you side-scroll through the world around you. Your goal is to enjoy your time off surrounded by nature as you nurture a hearty romance with the Amakusa sisters!

Story

Akito Kiyama works a dead-end job at an exploitative company.

Never paid for overtime work and worn down by the daily grind, his crushed and burnt-out coworkers quit in quick succession. Knowing it wouldn't be long until he ended up the same, Akito submits his resignation.

Having earned two weeks of paid leave, he considers taking a hot spring vacation to heal his mind and body. That's when he recalls his hometown in the countryside and decides to return for the first time in a decade.

However his hopes for a restful vacation are shattered when he arrives in the familiar town only to find that his planned lodging was closed for short-notice renovations! As the sun sets on our shelterless protagonist, three women suddenly appear before him—his childhood friends, the Amakusa sisters!

After 10 years, you find yourself reunited with the Amakusa sisters. This simple event is the start of your countryside love story.

Characters

Amane Amakusa (voiced by Ayaka Suwa)

The middle child of the Amakusa family. A nurse working at the town clinic, she is the same age as the protagonist, Akito. Amane and Akito got along and often played together when they were children, but she seems repulsed by him since their reunion.

Though recognized for her capability at karate, she doesn't have time to dedicate to it since entering the workforce. She now redirects her need to exercise toward running in the mountains nearby. While she has a penchant for sports, she's not great at fishing despite her persistent efforts.

Hibiki Amakusa (voiced by Nichika Omori)

The youngest of the Amakusa sisters. Currently a student at the local community college, Hibiki looked up to Akito like a real brother when they were kids. Though she can be sloppy and immature, Hibiki is also shrewd and calculating, often weighing the benefits of the choices presented to her. She is most proactive and energized when things she cares about are involved.

She is a streamer (to a small audience) with dreams of moving to Tokyo for a big city life though she's unable to broach that topic with her eldest sister Kanami.

Kanami Amakusa (voiced by Asuka Nishi)

The eldest of the Amakusa sisters. She used to dote on Akito like a younger brother when they were children. Kanami is the pillar of their family, even acting as a mother for her younger sisters Amane and Hibiki in the years since they lost their parents. She is also the manager of Metropolis, the cafe which their parents left behind.

While she has her spacey moments, she's usually very reliable. Since taking on the role of "mother" at home, even her free time is filled with chores like cleaning. The fact that she has no proper hobbies is a worry of hers.

System

You have 14 days of paid leave. Use it to cultivate your budding romance with the Amakusa sisters!

You have 14 days of paid leave to spend in the countryside where you were born and raised. There, romance awaits! Use your time to reconnect with the tsundere middle sister, the downbeat youngest sister, and the motherly eldest sister, all of whom you grew up with. Will you choose one…or maybe even all of them? A variety of endings await based on the choices you make!

Get wrapped up in a myriad of special events with the Amakusa sisters!

Special events occur as you get to know the sisters. Play and see what sorts of unforgettable moments await!

Help out your fellow townspeople by completing Favors for them!

You'll be asked to do a lot of Favors by the sisters and other townspeople. Complete their requests to increase your likability, see special events, and earn money and other rewards! Use your money at the town shop to buy items and play mini-games. Be on the lookout for Favors you can complete to give your countryside life an extra layer of enjoyment!

Enjoy each slow country day to the fullest!

You can move freely around the map of the countryside. Fish, tend the field, and enjoy all the uniquely rural fun available to you. Caught fish and harvested vegetables can be used to fulfill certain Favors, but they are also potential gifts for the sisters. Keep an eye out for any number of lost items scattered around the map as well! Don't forget to take in the beauty around you as you explore to collect them all.

Pull your rod up at just the right time and you may catch something amazing out on the waters! What awaits below the surface changes depending on your bait and location!

While your love should mostly be for the Amakusa sisters, be sure to pour some into the vegetables you're in charge of raising. Some of them turn out a bit uniquely shaped, though…?

Look out for beetles, vintage items and more rare finds scattered about the map as you move around! Wait, is that…underwear? Who dropped these…?

Enjoy retro mini-games!

Head to the town shop to play vintage video games and classics like Super Ball Scoop and Menko Cards! Of course, these are still the hippest games around in the countryside!

Pull the Menko Lottery at the town shop and prepare to duel! This in-game collectible is also a joy for all completionists!

Enjoy a retro gaming experience with Super Ball Scoop! Can you get the high score?
Love on Leave will be sold digitally for Switch via the eShop for $24.99. A gameplay video can be found on the Steam page here. Visit the official website here.
---
Update (5/10): A trailer has now been released for Love on Leave. Give it a look below.
Leave a Reply