Crypto Miner Tycoon Simulator heading to Switch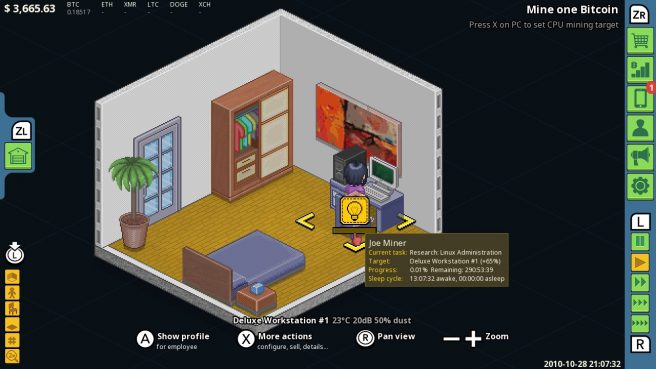 Crypto Miner Tycoon Simulator will debut on Switch later this month, Bigosaur has announced. The game is slated for August 17, 2023.
While this isn't the first time the game is releasing, there'll be huge performance improvements on Switch. We're told that the save file size for an average facility was reduced from 200 MB to around 60kB and the time to save the average game has been reduced from over 30 seconds to only two seconds. The port also includes various quality of life improvements that enable fast building of mining rigs and facilities.
Here's an official overview:
The game is a detailed simulation of the crypto currency mining business. You build mining rigs and huge data centers, trade on the market, hire employees to help you and invest money into research to complete scenarios.

Mining:
* Assemble rigs from PC parts
* Install software
* Use racks to organize space and direct heat
* Replace broken parts and outdated components
* Play through the CPU, GPU, FPGA and ASIC mining era
* Mine Bitcoin, Ethereum and more…
* Realistic network hash rates

Trading:
* Start in your bedroom in 2010
* Historically accurate coin exchange rates
* Use PR department to hype the prices up or down
* Run your own crypto exchange and take cut of the profits

Company management:
* Buy or rent new offices
* Hire people
* Set work shifts and task priorities
* Pay monthly bills and wages
* Create research labs
* Discover new technology before competition
* Research software to create your own coin and launch the ICO

You can unlock overtime work by upgrading your management skill or
hiring professional managers.

Stories / scenarios:
* A rich kid trying to start a business and discovers time travel
* An ex drug lord going legal
* A hardware engineer building their own empire
* A hacker taking over the world
* Going green with solar powered mining
* Starting your own crypto exchange while returning old debts
* Discovering the cure for pandemic
* And a Free play / Sandbox mode
Have a look at a trailer for Crypto Miner Tycoon Simulator below.
Release Trailer
Leave a Reply