Dead End Job in the works for Switch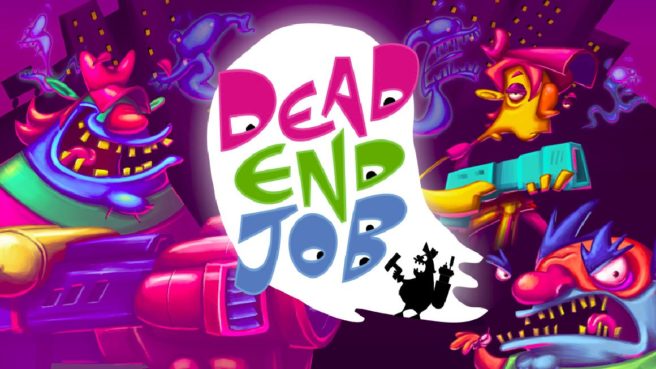 Ant Workshop put Binaries on Switch not too long ago. The studio also has another game in development for the console: Dead End Job.
Players can expect twin-stick shooting gameplay with a sense of humor in Dead End Job. Ant Workshop has also created cartoon-quality artwork inspired by the likes of Ren & Stimpy.
We have more information below:
Dead End Job merges the frantic, addictive, highly replayable gameplay of a procedurally generated twin-stick shooter with the iconic look of a 90s cartoon.

You take on the role of Hector Plasm, a worker at Ghoul-B-Gone – the #1 experts in paranormal pest control. Blast ghosts and then suck them up using your trusty vacuum pack, as every ghost you catch, citizen rescued, and job completed is added to the client's bill.

Literally haunted by your former partner-cum-mentor who didn't come back from a job one night, they're training you up to earn the hallowed status of "Employee of the Month" when they claim you'll be ready to avenge their death by taking on the mythical ghoul that killed them.

Have you got what it takes to be the best at putting pests to rest?

– Clean houses, offices and other buildings of ghosts using your trusty vacuum pack and a whole range of supernatural items.
– Drop in/drop out couch co-op, as your mentor appears to lend a hand!
– Failing a job isn't game-over! Compete with other employees to be crowned as "Employee of the Month".
– Stunning cartoon-quality high resolution artwork inspired by favourites like Ren & Stimpy.
– Featuring original music by the award-winning Will Morton (Grand Theft Auto series).
– Twitch integration allows viewers to help or hinder the streamer by choosing their powerups.
Dead End Job will be launching on Switch alongside other platforms between late 2018 and early 2019. View a trailer below.
Leave a Reply