Dezatopia hitting Switch this year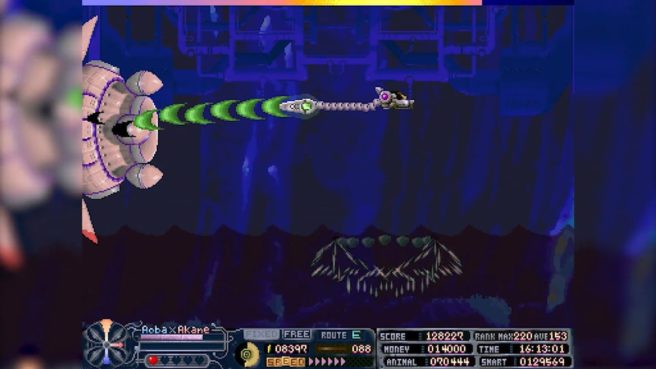 The shoot 'em up Dezatopia will arrive on Switch, developer Hanaji Games has announced. A release is planned for later in 2019.
Here's an overview of Dezotopia, along with a trailer:
The underground is inhabited by strange and unusual creatures.
Momoko, an average high school girl, is the first human to learn about them, and she joins forces with them to create a new world that combines both above and below the surface: Dezatopia.Two schoolmates she hired to help her, Akane and Aoba, discover the extent of her plans and decide to revolt.When she calls for their capture, their only hope of repelling the waves of crazed beasts is their work ship, the Speleological Fighter Pink Aurora.

An Original New Shmup from HEY

Your craft has four unique, intuitive weapons that help you battle against enemies from all directions. It can be further improved with upgrades from the shop that appears mid-battle. However, the dynamic rank system adjusts the difficulty to match your skill level for a fine-tuned challenge. Your experience, strategy, technique, and luck will be put to the test.

Each stage is filled with unique and surprising gimmicks. Colorful bosses await at the end in massive machines. These are all arranged in preselected routes for high replayability.

Detailed pixelwork and smooth animation makes the underground world come alive, grabbing your attention until the very end. The retro familiarity of the music's FM synths helps the original, driving melodies will stick in your mind. The resulting audio-visual combination creates a truly vivid experience.

All of the characters are filled with personality, from the three human high schoolers to the weird underground creatures. Learn how they feel and why they fight will be revealed in the story.

This expansive, detailed world can be enjoyed by anyone, anywhere, but it can only be experienced here. Feel it for yourself.

Features
– Classic arcade style: The tried-and-true dodge-and-destroy excitement of a shmup is on full display.
– Huge volume of content: 24 different stages with 21 bosses arranged in 21 routes.
– Intuitive controls: New yet simple controls which can be enjoyed by novices and veterans alike.
– Unique shop system: Purchase upgrades on the fly without pausing the action.
– Dynamic challenge: Automatically adjusts between 1000 difficulty ranks to suit the player's skill.
– Amusing story: High school students and underground creatures clash against the combination and domination of two worlds.
– Unlockable bonuses: Find hidden items in each stage to open up music in the sound test, backstories, and more.
– Eye-catching graphics: Vivid pixel art with smooth animation.
– Retro music: Over 40 all-new FM-synth tracks by HEY.
Leave a Reply