Dragon Quest 35th Anniversary Special live stream announced for May 26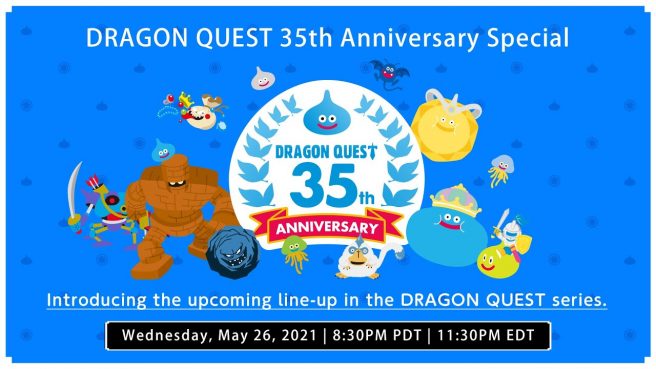 Square Enix will host a Dragon Quest 35th Anniversary Special live stream on May 26, the company announced today. The event will cover "all of the latest information about what's going on – and what's yet to come – in the world of Dragon Quest."
Here's the official description:
Introducing the upcoming line-up in the Dragon Quest series.

May 27th is Dragon Quest Day, and to celebrate the 35th anniversary of the series, we're bringing you a special broadcast to showcase all of the latest information about what's going on – and what's yet to come – in the world of Dragon Quest.

For the first time in Dragon Quest history, the show will feature live interpretation from Japanese, so that our international fans can stay up-to-date with developments in the Dragon Quest series, too. Don't miss it, or you'll miss out!
The live stream officially opens for business at 8:30 PM PT / 11:30 PM ET / 4:30 AM in the UK / 5:30 AM in Europe. You can watch the event as it happens below.
Leave a Reply