Duel Princess coming to Switch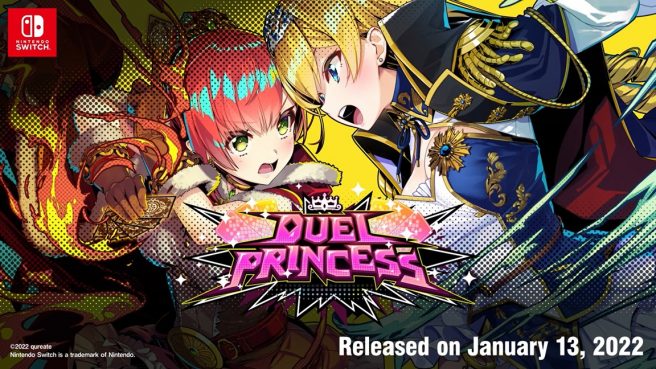 Qureate has announced Duel Princess, a side-scrolling tower defense game with roguelike elements. The game will launch for Switch on January 13, 2022.
Here's some additional information straight from Qureate:

With the fate of the world at stake, the fierce battle between princesses is about to begin!

This is a side-scrolling tower defense game where you lead your units from your own castle towards the Princess' castle and capture it.

There are roguelite elements that lets you enjoy building new decks each time you play the story mode.

There are also many sexy rewards that men all over the world can enjoy!

Cast

Barbara (CV: Yuuki Kuwahara)
Carla (CV: Eri Inagawa)
Dorothea (CV: Chitose Morinaga)
Eleonora (CV: Eri Yukimura)
Frieda (CV: Chinami Hashimoto)
Grace (CV: Miyuki Sato)
Hilde (CV: Nozomi Nishida)
Iris (CV: Rena Sakutani)
Aria (CV: Mao Amatsuka)
Zena (CV: Fumiko Uchimura)

Spec

Game Title: Duel Princess
Platform: Nintendo Switch
Genre: Roguelite Tower Defense
Price: $24.99
Supported Number of Players: 1
Supported Languages: Japanese, English, Chinese Traditional, Chinese Simplified
Voice: Japanese

Staff

Character Design: Waon Inui
Scenario: Linkedbrain Inc.
Planner/Producer: Yujiro Usuda
We have a trailer for Duel Princess below.
Duel Princess will be sold digitally for Switch as an eShop download. You can access the game's official site here.
Leave a Reply