Dying Light Switch tech analysis, including frame rate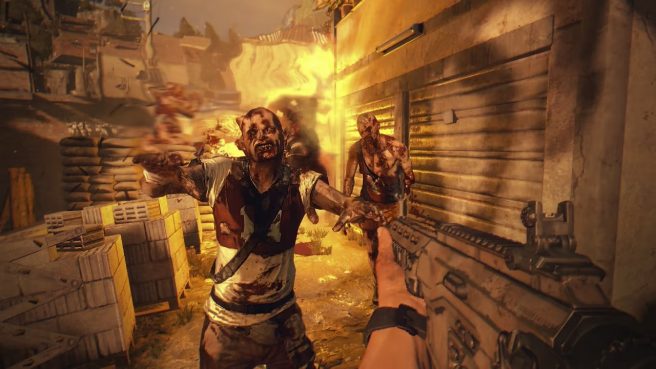 In its latest technical analysis today, Digital Foundry has taken a closer look at the Switch version of Dying Light, including the game's frame rate. We also get insight into how Techland changed the game for Nintendo's console, a technique used when it comes to resolution, and more.
Here's the full roundup of tidbits:
– Switch version is based on version 1.43 of the original game
– Brings most key visual features and changes
– Using some sort of new temporal anti aliasing with upscaling
– The game is reconstructing the image from different frames to match the target output resolution; either 1080p docked or 720p in portable mode
– Actual base rendering is lower than this, often below 720p in docked mode, but manages to look reasonably native resolution
– Shadow resolution reduced significantly on Switch
– Texture resolution scaled back as well
– Lighting and depth of field are in tact
– Ambient occlusion still on Switch, but has been changed
– Dying Light Switch frame rate is generally 30 FPS, but often bounces between 30 and 36
– Usually stays above 30 FPS, dips happen more so at night
– The team says they're looking to solve the frame rate issue with a patch
– Per pixel motion blur used on prior versions of the game has been eliminated
– All distance detail has been toned down on Switch
– Some dynamic lights are culled from view and only appear as you approach them
– Water rendering reduced in terms of overall fidelity, but the effect itself and area beneath the water surface remains in tact
– Animation rate can sometimes be reduced for zombies far enough away from the camera
– Reflections paired back in certain instances
– Grass shadows removed from patches of foliage
– Object pop in
– Game still preserves the overall look on Switch
– Loading times seem to be quicker on Switch than PS4
– No surround sound support for audio
Watch the full Dying Light Switch technical analysis from Digital Foundry below.
Dying Light: Platinum Edition launches for Switch on October 19.
Leave a Reply