Factorio confirmed for Switch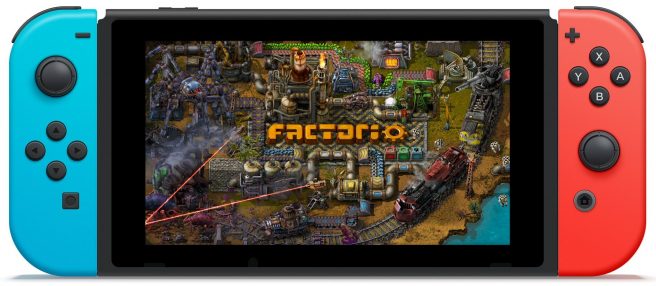 Factorio, a well-known game that previously hit PC, is now lined up for Switch as well. A release is planned for October 28, 2022.
Factorio has players building and maintaining factories as they mine resources, research technologies, build infrastructure, and automate production and fighting enemies.
Here's further information from Wube Software:
Here is what to expect:

All of the game's content will be available. The gameplay is not simplified and there are no artificial limits.
There will be no mod support.
Multiplayer will be available, including playing cross-platform. Nintendo Switch Online is required for online play, but not required for LAN games.
Save files are compatible between all platforms. There will be no save transfer feature at launch, but you can transfer your saves using multiplayer.

Performance
One of the first questions you might ask is how does the game perform. We worked on many optimizations to make sure the game performs as well as possible. You should expect 30-60 FPS (both in TV mode and handheld mode). As for UPS, the average player should be able to go through all of the content and launch a rocket, while staying at 60 UPS. But don't expect to be able to build mega-bases without UPS starting to drop, sometimes significantly.

Can you really play Factorio with controllers?
Factorio was developed for 10 years with only keyboard and mouse in mind, so making sure the game is fully playable with controllers was no easy task. Playing with a controller is slightly slower, and will take some getting used to (just as it does when playing with keyboard and mouse for the first time). After becoming familiar with it, I find it very comfortable. I recommend everyone to play through the first levels of our tutorial campaign, as it's a great way to get acquainted with playing Factorio with a controller.
We've included a trailer for Factorio below.
Leave a Reply