Fantasy adventure game Altheia: The Wrath of Aferi announced for Switch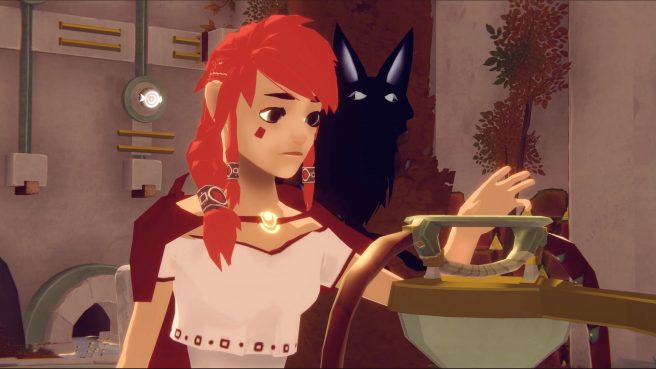 Publisher Neon Doctrine, along with developer MarsLit Games, today announced Altheia: The Wrath of Aferi. It's planned for Switch, but there's no word yet on launch timing.
Altheia: The Wrath of Aferi is a fantasy adventure game in which a sword–wielding Guardian and an arcane Monk must work together to defeat the Void corrupting their home, and players will explore ruined temples, solve environmental puzzles, rescue spirits, and defeat giant Void monsters. Further details can be found in the following overview:
Experience a thrilling fantasy adventure inspired by the works of Studio Ghibli and Studio Chizu, where reluctant duo Lili and Sadi must learn to work together to survive the journey ahead.

After losing her mother to an ancient evil, Lili doesn't want anything to do with her mother's legacy of being a Guardian. However, when Lili rescues a Monk-in-training named Sadi, the latter urges her to revive the traditional partnership of Guardians and Monks and help him save their home from the mysterious corrupting Void.

But the world of Atarassia is a dangerous place, filled with monsters and obstacles spawned from the Void, all deadly to a reluctant and unprepared hero. Lili and Sadi will need to combine their wits, their wills, and their strength of arms and magic to defeat the Void's corruption, and finally confront the god that took their families from them.

Take on dungeons full of mechanical puzzles to be solved, Void monsters to battle, and friendly spirits to rescue as Lili and Sadi discover what it means to truly be partners, and to assume their heroic destinies as Guardian and Monk.

Key Features

Combine the powers of a martial Guardian and a magical Monk to take on enemies and puzzles that can't be beaten alone.
Explore winding dungeons inspired by the classic Zelda games, made up of beautiful but corrupted temples and shrines dotted all around the world of Atarassia, and befriend the spirits that live within.
Battle giant monsters in places that have been deeply corrupted by the Void and defeat them to free the surroundings at last.
Find the first trailer for Altheia: The Wrath of Aferi below.
Announcement Trailer
Leave a Reply