Fantasy Strike gaining full cross-play support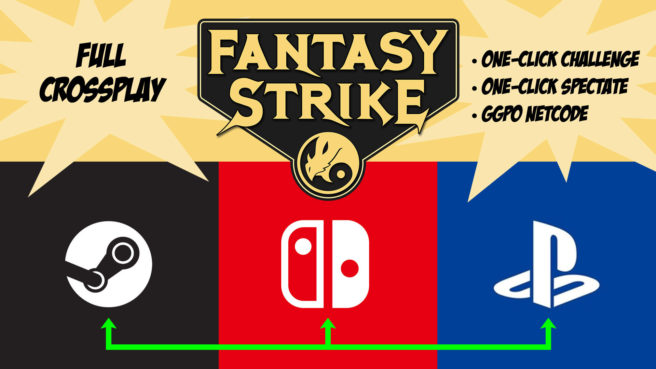 Fantasy Strike already supported cross-play between Switch and Steam. Now, however, an additional platform is entering the equation.
Developer Sirlin Games has announced full-cross play support, in which all platforms will be compatible with each other. As one example, Switch players will be able to challenge opponents on PlayStation 4.
Here's the full announcement from Sirlin Games:
Next month, Fantasy Strike will have full crossplay amongst all its platforms: Nintendo Switch, PlayStation 4, and Steam (Mac, Windows, and Linux).

Since our launch on July 25th, we have already had the most crossplay that was possible due to Sony's restrictions, which was to allow crossplay between PS4/Steam and between Switch/Steam. Sony has finally allowed us to convert to full crossplay amongst all our platforms, which we will deploy next month.

Specifically, this means that players on any platform will be able to play against players on any other platform when entering the casual play and ranked play queues. Also, players will be able to directly challenge other players (to matches in both the 1v1 character format and 3v3 team battle format) without needing to know or care which platform the other player is on. You simply add the player's FantasyTag to your in-game friends list, then you can challenge or spectate them from there with one click.

As an indie fighting game dev, crossplay means the world to us. More so than many other genres, a fighting game needs a united player base in order to achieve fast queue times, fair matches, and the highest level of competition. Our queue times have already been good, with an average wait of less than 90 seconds across all hours of the week. With full crossplay, it will be even faster.

Fantasy Strike has already been able to bridge the gap between players of different fighting games. If you're an expert at Killer Instinct, while your friend is an expert at Street Fighter, you can each reach basic competence in Fantasy Strike and start having good matches a lot faster than you either of you could in the other's game. We've also been able to bridge the gap between controllers. Whether you prefer to play with a keyboard, a joystick, a Joy-Con, a hitbox, or a guitar, no controller gives any kind of hardware advantage. And now, we're bridging the gap between platforms too. Play Fantasy Strike where you want, how you want, with you want.

Stay tuned for more information on when crossplay goes live next month. We'll also be announcing an online tournament to celebrate (now accessible by all platforms!) very soon so keep an eye out for that, as well.

Be sure to join our Discord and follow us on Twitter for more news on our monthly updates to Fantasy Strike.

Thanks so much for supporting us, and we hope to see you (all of you!) in the queue!
Leave a Reply