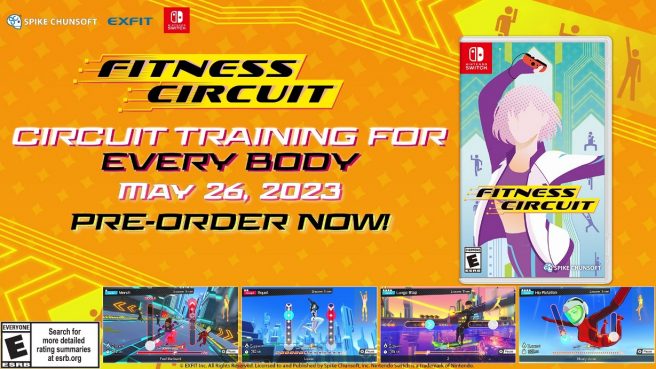 Spike Chunsoft today announced Fitness Circuit, a sports / fitness game for Switch. It will launch in North America, Europe, and parts of Asia on May 26, 2023.
Spike Chunsoft has shared the following details thus far:
Fitness Circuit is designed around five key points to help motivate and maintain your training.

10 Minutes a Day, 3 Days a Week: Fitness Circuit utilizes Super Circuit Training, a workout method that alternates aerobic and strength-building exercises to burn calories efficiently, increase endurance, and improve muscle strength in a short period of time. This method is designed to have a high training effect, so you won't need to play every day. Complete a standard workout session in just 10 minutes a day, 3 days a week. *Exercise effects and results will vary per individual.

Workout Anytime, Anywhere: Fitness Circuit doesn't require anything more than a little space to move and Joy-Con controllers. No need for extra equipment or busy gyms.

Circuit Training for Every Body: Anyone can play. Fitness Circuit offers training that is tailored to your individual needs and preferences.

Fun Routines: Simply match the workout prompts, to help your on-screen Runner through a flashy and entertaining performance. It's fun to play and watch.

Play With Friends: Make it a Group Workout. Fitness Circuit supports 4-person Online Multiplayer, so you can play and compete together to make the most of your training.

Fitness Runners & Voice Actors: Fitness Circuit's colorful characters are fully voiced by some of your favorite anime stars, in both English and Japanese.

Naomi
English VA: Emi Lo
Japanese VA: Kana Hanazawa

Ray
English VA: Howard Wang
Japanese VA: Natsuki Hanae

Scarlet
English VA: Jennifer Losi
Japanese VA: Nana Mizuki

Maverick
English VA: Mick Lauer
Japanese VA: Hiroki Yasumoto

JJ
English VA: Amber May
Japanese VA: Maaya Uchida

Max
English VA: Kane Jungbluth-Murry
Japanese VA: Takahiro Sakurai
Get a first look at Fitness Circuit in the gallery below.
The game will be sold both physically and digitally on Switch. Pricing is set at $49.99 / €49.99 / £39.99.
The official website can be found here.
Leave a Reply