Happy Game and Pilgrims getting Switch physical release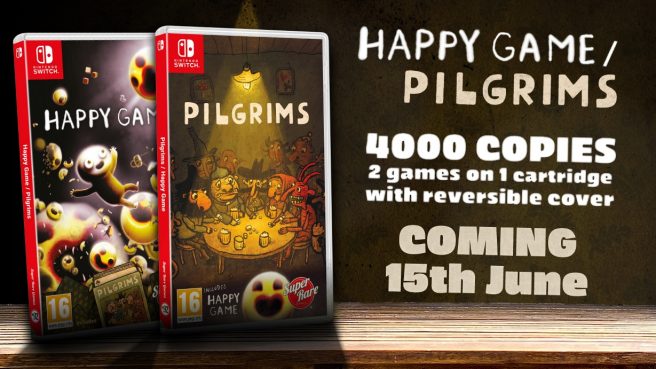 Super Rare Games is teaming up with Amanita Design on a new Switch physical release bringing fans a two-games-on-one-cartridge bundle, with Happy Game and Pilgrims getting a physical release on the platform for the first time.
There'll be 4,000 copies with a reversible cover and 2,000 copies of each sealed variant. The Happy Game and Pilgrims 2-in-1 Switch physical release includes the game on a physical cartridge, a reversible cover, a full-color manual, an exclusive sticker, and two sets of trading cards. Those who buy two copies of the game are guaranteed two sealed copies of the games with both covers.
Happy Game made it to Switch in October 2021 with Pilgrims following last November. We have information about both below.
Happy Game

A little boy falls asleep to a horrible nightmare. Can you make him happy again?

Key Features

Unfathomable horrors: A psychedelic horror adventure from the creators of CHUCHEL and Botanicula
Unsettling memorable environments: Endure and escape three unforgettable nightmares
Challenging puzzles: Solve deeply disturbing puzzles in (not so) charming environments
An eerie cast of characters: Deal with suspicious smiley faces and pink bunnies
Hauntingly beautiful soundtrack: Creepy songs and screeches from the Czech freakfolk band DVA

Pilgrims

Pilgrims is a playful adventure game, created by the team behind Creaks and Machinarium. Roam the land as you please and make new friends, share a laugh with your fellow travelers, and help them complete their little stories, your way. How many different solutions can you find?

Key Features

Playfulness: Don't beat it – play with it! Solve the various tasks using dozens of items and unique characters without being obliged to follow a single designated path.
Replayability: Packed with 45 achievements, Pilgrims is a game designed to be played more than just once. Can you collect them all?
Hand-crafted appeal: Hundreds of unique animations and custom-made sound effects result in countless humorous and unexpected outcomes. Try to discover as many as you can!
Original music: Floex (Machinarium, Samorost 3) is back at it with his mix of live instruments and organic electronics, joined by guests on guitar or clarinet.
Pre-orders for the Happy Game and Pilgrims 2-in-1 Switch physical release open on June 15, 2023. Super Games Games will have it here.
Source: Super Rare Games PR
Leave a Reply