Here's a Podcast – Episode 113! (Tetris 2)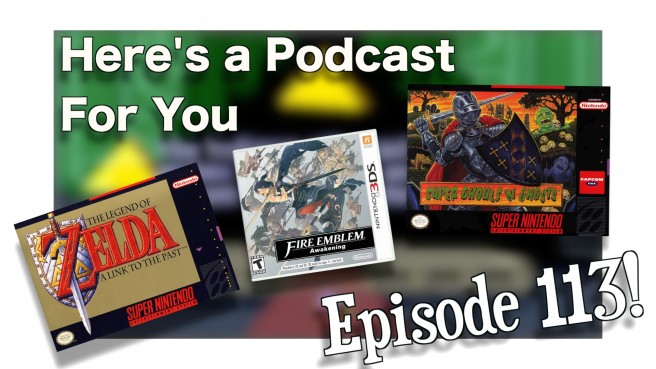 ---
Podcast Crew: Austin (Twitter), Jack (Twitter), Laura (Twitter)
There was a Nintendo Direct today! Do you want to hear some people talk about it? Well, this isn't really the podcast for that, but we do talk plenty about games, why they're good, why they're bad, and why you should play them. Because we love games.
We love game news. But we mostly love games.
Shenanigans
1) Intros, hello, what to expect
2) Picture of the Day (new segment)
3) Game of the Week: Tetris 2!
4) Personal Grievance Time (PGT)
What we played
5) Austin takes a key for coming in. (Super Ghouls n Ghosts)
6) Laura finds love again, and again, and again. (Fire Emblem: Awakening)
7) Jack tries emulating N64, and realizes it sucks.
Shenanigans Redux
8) FEATURES FEATURES FEATURES
9) Check out that handshake. (Nintendo and DeNa and Zelda delay, the only timely segment)
Book Club
10) A Link to the Past – Book Club FINALE
11) And the Master Sword sleeps again… FOREVER! (Final Thoughts)
Final Shenanigans
12) Tetris 2 quiz!
13) Ending.
---
Download this episode (click this link)
Subscribe via iTunes by clicking this thing!
Subscribe with Google by clicking this thing!
Subscribe with Yahoo something-or-other by clicking this thing!
Leave a Reply