Hidden Through Time: Definitive Edition launch trailer
Posted on November 15, 2022 by Dawn in News, Switch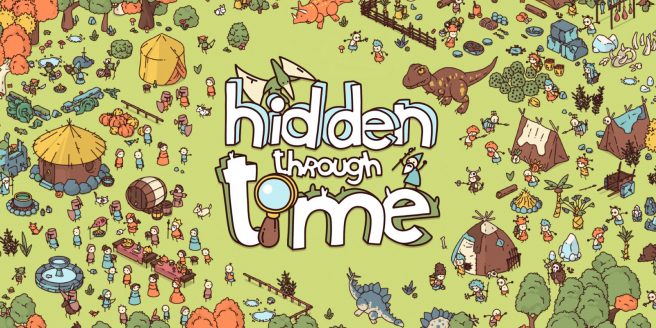 Earlier this year, ININ Games announced that Hidden Through Time, which originally released on Switch eShop back in March 2020 and has since been expanded upon with multiple DLC, would be getting a physical release on Switch as Hidden Through Time: Definitive Edition, and would include all of its DLC. For European countries this is now available to purchase from their website, and the publisher have shared a launch trailer to commemorate the occasion.
Catch up on the game and its DLC with the overview below, courtesy of ININ Games:
Embark on a colourful hand-drawn journey of discovery through the ages!
Hidden Through Time is a cute game of hide and seek with objects scattered throughout the wonderful history of our world! Cryptic hints will help you discover every small (sometimes really small) secret as you explore the colourful hand-drawn levels.

Find yourself in the Stone Age and witness the course of history as you click through Ancient Egypt, the Middle Ages and the lawless Wild West, while seeking for items that will grant you passage to the next (st)age. Make your way through epic and full-of-details sceneries that expand in size and difficulty as players progress – it's the survival of the fittest, but subtle hints are provided for each object if needed.

Our Definite Edition includes all 5 released DLCs, in case you were looking for another journey to embark on:

The Viking Tales DLC will send you and Clicky on a quest through norse culture and mythology to discover all of the hidden treasures and myths the vikings have kept from us. You'll encounter numerous viking clans, Norse gods and elves!
This DLC includes 10 new levels ranging from viking invasions to peaceful elven villages.
It also includes 400 new viking themed object that are available in the level editor for those of you who can't get enough of these ransacking clans!

Past the temples on Mount Fuji through the rice fields around the hills, secrets lay hidden all across Legends of Japan!
Embark on a journey through Feudal Japan where you'll experience the wonderful fireworks festivals and learn about the disciplined traditions of the samurai training in their dojos.
This DLC includes 10 new levels ranging from Japanese temples to Sumo tournaments. It also features more than 300 new Japan themed objects and characters that will be available in the editor level upon purchase!

In Hidden Through Time – Roads to Rome you will hear the roar of the arena, march into battle with the troops and earn the favor of the gods! Observe your surroundings with care and discover the secrets hidden in the amazing architecture, intriguing mythology and powerful emperors of Rome!
This DLC includes 10 new levels ranging from Gaul settlements to the monumental Colosseum! It also features more than 300 new Roman Empire themed objects and characters, available in the editor level!

Thriving over three great centuries, dominating expanses of land in the area and creating a society unique in world history, the Aztecs were a a gifted Mesoamerican culture, rich in complex traditions and beliefs. Plow through the swamps, climb the highest mountain peaks and behold the greatness of Tenochtitlan, and you'll unveil all the secrets that lay hidden within the most powerful Mesoamerican kingdom of all time – Aztec Rituals!
This DLC includes a new story campaign featuring 10 new levels and more than 300 new Aztec Empire themed objects and characters, which will be in the level editor upon purchase!

Widely feared across the pond, but also loved for their inspiring sea shanties, the Pirates are fearless travelers of the seven seas that will take on any challenge in their mission of riches, however hard it may be. Set sail for the adventure of a lifetime: weigh anchor, haul wind and traverse the briney deep looking for all that's shiny and gold in Pirate Treasures!
This DLC includes 10 new levels and features more than 300 new Pirate themed objects and characters, which will be in the level editor upon purchase!

Now is your time to make history!

Still desire more or wish to unleash your creativity? With the map editor you can enjoy near-endless replayability and create your own piece of history using all the collectible items from both the game and the 5 DLCs, decide the movements and trajectories of your characters and share it on the cloud! There you can also discover maps made by other creators from all around the world and available to anyone. Pick your next quest, challenge and rate the ever evolving levels created by the Hidden Through Time community.

Join Clicky on his wondrous adventure in Hidden Through Time: Definite Edition!

Features

– 5 DLCs included
– Hand-drawn levels
– Map Creation Tool that allows you to create your very own levels and share them with players on the cloud (the level editor cloud works cross-platform). While creating your personal piece of history, you will be allowed to use all the collectible items from both the game and the 5 DLCs and all the characters
– Endless replayability
– Single player system
Hidden Through Time is available now on Switch via the eShop, with the physical release of the Definitive Edition available to purchase through ININ Games' website.
Leave a Reply