Warhammer 40,000: Shootas, Blood & Teef and Hidden Through Time getting physical releases on Switch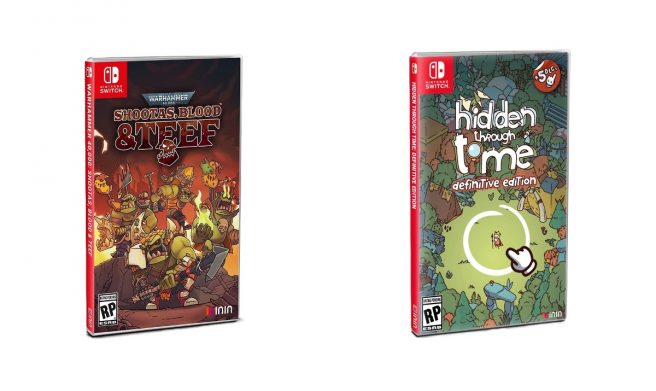 ININ Games has announced not one, but two new physical releases for Switch. The company is planning boxed versions for the upcoming 2D run-and-gun adventure Warhammer 40,000: Shootas, Blood & Teef as well as the currently-available point-and-click puzzle game Hidden Through Time.
Here's some information about both titles:
Warhammer 40,000: Shootas, Blood & Teef
Warhammer 40,000: Shootas, Blood & Teef is a hand-drawn 2D action-adventure taking you on a wild ride full of intense action, funny one-liners and tons of explosions! Fight your way through the hive city of Luteus Prime in single-player mode or as a party of up to 4 battle-hardened Orks in online or local co-op. Pick your class, grab your weapons and get ready to battle Humans, Orks and Genestealer cultists, to ultimately retrieve your luscious hair squig from the hands of the Warboss Gutrekka! Who's ready for Waaagh!?
Hidden Through Time
Hidden Through Time is a cute hide-and-seek game with objects taken from different wonderful eras of our world's history. From missing dinosaur eggs in the stone age, to a king's crown in medieval times – can you find them all? Uncover each secret with puzzling clues as you explore the colorful, hand-drawn levels.

Want to get creative yourself? The editor is available to everyone, so you can create your own levels and share them in the cloud, which works across all platforms! Here you can also discover, play and rate levels created by other hobby developers around the world!
The physical version of Warhammer 40,000: Shootas, Blood & Teef will be available this fall while Hidden Through Time is set for September 16, 2022. Note that Hidden Through Time will be the "Definitive Edition", which marks the first complete release including all five DLCs directly on the cartridge, two of which are currently in development and will be brand-new.
Source: ININ Games
Leave a Reply