If My Heart Had Wings confirmed for western release on Switch for September 5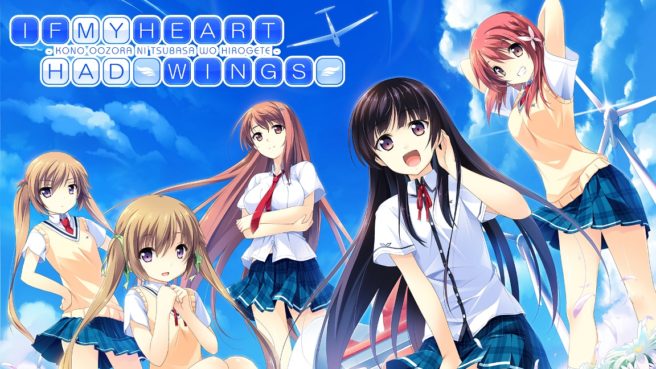 If My Heart Had Wings is coming west for Switch on September 5. That's the same day as Japan, which we found out about earlier this week.
We have the following information about If My Heart Had Wings, along with a trailer:
The game, which will be released September 5th, is a story set around students in a Soaring Club where members dream of soaring through the skies in a glider of their own making.

The story has multiple endings and unfolds alongside a diverse and interesting cast of 5 heroines.

While playing through the fully voiced story and pondering over the choices that are set before you, you will surely come to fall in love with one of them.

The Nintendo Switch version comes with quality of life improvements that will make it a joy for new and returning players alike.

Set in the breezy, laid back town of Kazegaura, watch as these students come of age in their unique environment and experience the ups and downs in the journey towards their dream.

Let's Love The Sky.

Story

Aoi Minase returns with shattered dreams to his wind-swept hometown of Kazegaura. There, atop a hill lined with wind turbines, he encounters a wheelchair-bound girl, Kotori Habane, and a beautiful, white glider soaring through the sky.

Together, they decide to revive their school's defunct Soaring Club in order to ride the "Morning Glory", a phantom cloud carried on the wind that blows across Kazegaura.

This is a tale of youth, a tale of boys and girls who loved the sky.

Gameplay

Enjoy the fully voiced story as it progresses in Auto Mode. Or change the settings to suit your tastes.

You will be asked to choose from a number of choices at certain points in the game, some of these choices will have considerable impact on how the story plays out down the line.

Features

A story spanning 30+ hours based around 5 heroines and the glider that will carry them to the skies.

Kotori Habane VA: Iria Hoshizaki
Ageha Himegi VA: Moka Choko
Amane Mochizuki VA: Gogyou Nazuna
Asa Kazato VA: Yukito Saori
Yoru Kazato VA: Arisugawa Miyabi

The Nintendo Switch original user interface allows you to focus on the story and relationships as they deepen.
If My Heart Had Wings will cost $19.99 on the Switch eShop and can be pre-loaded now.
Source: MoeNovel PR
Leave a Reply