Kayko and Kokosh game coming to Switch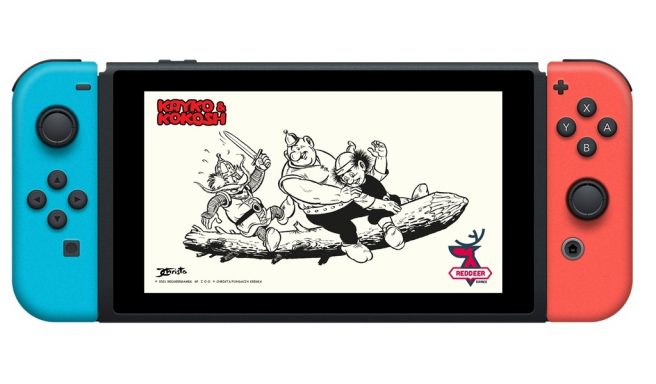 RedDeerGames has announced that a new game is in development for Switch based on Kayko and Kokosh. This ties in with the new animated series on Netflix that's kicking off today.
Kayko and Kokosh is based on the Polish comic book written by Janusz Christa that features the adventures of two Slavic warriors, Kayko and Kokosh. RedDeerGames has confirmed that the upcoming Switch title " will be a unique combination of the coloring book, interactive comic, and visual novel." Former CD Projekt Red writer, Magdalena Kucenty, who was in charge of the script of The Witcher's Gwent, is handling the new game's plot.
Here's some additional information:
You'll enter the colorful world of Slavic fantasy. The humorous strips follow the story of two warriors that do everything they can to defend their beloved castle of Mirmilovo from attacks by the evil order of Knaveknights.

MEET THE HEROES
Kayko is the clever, resourceful, and lovable kind of a hero, while Kokosh is more of a strong and confident type, who's always hungry. They both serve castellan and his wife—Mirmil and Lubava—who take care of general order in Mirmilovo.

SLAVIC FLAIR AND CUNNING
In this beautiful, yet rarely quiet place the sneaky attacks from the Knaveknights are so common that Kayko and Kokosh need to constantly invent new tactics of saving the castle. And they do it in the funniest and cunning ways possible: from absurd diplomatic disputes through changing the opening hours of the castle to the fight with an overwhelming spirit of laziness.

ABOVE ALL – GOOD FUN!
The additional ten comic strips picture everyday life in the castle and its surroundings, with cute and magical creatures that live there. Thanks to the fun drawings and stories the game should please readers of every age and improve their mood immediately!
Kayko and Kokosh will debut on Switch in Q1 2022.
Leave a Reply