Kimishima talks Nintendo's smart device strategy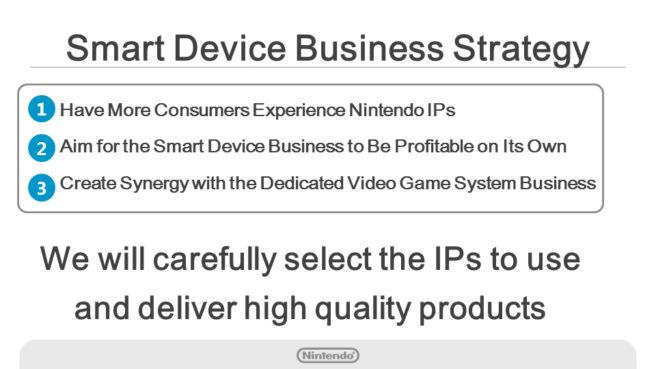 This information comes from Nintendo's investors briefing as stated by president Tatsumi Kimishima…
I have explained this on some occasions in the past as well, but Nintendo's smart device business has three purposes.

First, we want to use smart devices to maximize the number of people who come into contact with Nintendo IP.

Next, of course we aim for the smart device business to be profitable on its own.
Furthermore, we want to create synergy with the dedicated video game system business to realize the full potential of our entire business.

We have placed no restrictions on which Nintendo IPs can be developed for smart devices, so we continue to discuss the best ways to bring various characters and worlds to smart devices.

We understand that the value of the Nintendo characters and game titles that our consumers have supported for so long comes from the treasured experiences of playing on Nintendo's game systems, and the "hand-crafted" feel emblematic of Nintendo's products. It is not just a matter of character popularity.

This is why we feel that it would be a mistake to simply release our game titles in their current form on smart devices.

Therefore, we are carefully selecting IPs that will provide the consumers with strong value suitable to smart devices. We are working to provide a high-quality experience optimized to smart devices.
Leave a Reply