Little Friends: Puppy Island gameplay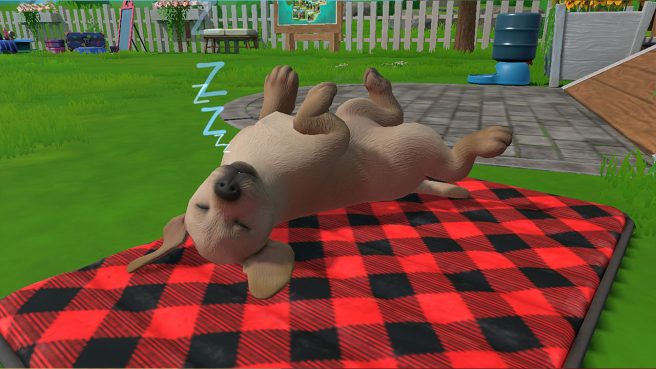 To coincide with its release on Switch today, gameplay footage for Little Friends: Puppy Island has appeared. We have a total of 32 minutes of the title available.
In case you missed our previous coverage of the game, check out the overview below:
Pack your bags and jet off for an un-paw-gettable island adventure in Little Friends: Puppy Island, the labra-dorable next game in the best-selling Little Friends series.

Explore a paradise island and become best friends with adorable puppy pals in a wholesome puppy adventure! Head out on walks across exciting locations, dig up hidden treasures, build and expand your holiday resort and meet lovable pups to care for on your very own tropical island.

Become best friends with Shibas, Labradors, Corgis, Huskies, Pugs and more, with nine unique puppy breeds to find and adopt across a diverse paradise island. Become a puppy fashionista and dress up your puppies with over 350 outfits and accessories, and explore sandy beaches, snowy mountains, cherry blossom sanctuaries, and more on a wholesome island adventure.

Find the paw-fect new locations to construct accessory shops and activity stations and train your puppies to become the ultimate pup stars, leveling up their stats in obedience, agility, friendliness and more. Care for your puppies by bathing, brushing, feeding, walking, and playing with them.

Little Friends on Holiday – Set off on an exciting new adventure that takes your puppy care experience even further! Explore an entire paradise island, find exciting new locations, dig up treasures and embrace your adventurous side with your new Little Friends.
Explore Puppy Island – Take your lovable companion out on their very own adventure across an island filled with puppies! Discover sandy beaches, snowy mountains, cherry blossom sanctuaries and so much more! What will you uncover on your adventure?
Become Puppy Pals – Become friends with nine different breeds of puppies and find the perfect companions to enjoy your adventure with! Meet new puppies while out on walks and bring them home to care for them. Take photos using the in-game camera to make memories that last a lifetime.
Build the Ultimate Puppy Paradise – Discover new locations throughout the island to build new toy, clothing, and accessory shops and unlock pawsome new items for your puppies!
Enjoy Puppy Care – Brush, bathe, feed, and play with your pups to give them everything they need for their adventures! Improve their obedience, agility, endurance and more, leveling up their stats to gain access to exciting new areas of the island.
Dress Up Your Pup – With over 350 colorful outfits and accessories to choose from, find your puppy's own unique style! From tiaras and dresses to mohawks and sunglasses, customize your puppy's look however you like!
Little Friends: Puppy Island is available now on Switch.
Leave a Reply