Midnight Caravan coming to Switch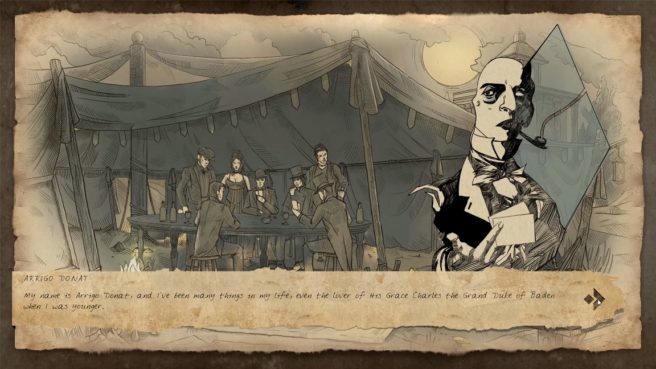 Gamera Interactive has announced Midnight Caravan, a mature gothic visual novel in the works for Switch. The interactive story puts player in the role of a man who is "living a gripping story of vengeance, politic, intrigues, espionage and much more, through the entire Italian peninsula."
Here's more information about Midnight Caravan plus a trailer (warning: video has a slight degree of nudity):
Gamblers, prostitutes, murderers, thieves, though moral choices and crimes set the tone for Midnight Caravan, a visual novel by Gamera Interactive. Our players join the main character in a gripping story of vengeance, political schemes, intrigues, espionage double-crossing and much more throughout the entire Italian peninsula. As the leader of a small caravan of outcasts, the protagonist will have for the first time in his life true autonomy over not only his fate but even on that of those who surround him: will he protect his people or pursue his own fortune? Juggle an intricate web of resources and relationships while keeping your enemies in the dark in this highly replayable dark tale.

Only one thing is sure: escape isn't an option anymore.

Features

– Unique art style
– Though moral choices to deal with
– A richly illustrated choose-your-own-adventure game with a unique narrative arc
– Combining more than 30 random events to let the players experience something new each time he steps in the game world
– An intriguing story set in an age renowned for its shadiness, where nothing is what appears to be: no distinctions between good and evil, nor between allies and enemies
– RPG-like character sheet
– Built-in relationship system to let the player feel the weight of every choice made
– 10+ key characters to meet with their own personal story and traits
A release window for Midnight Caravan has not yet been announced. It'll be playable at Gamescom 2018 in August.
Source: Gamera Interactive PR
Leave a Reply