Miitomo – returning Miitomo Drop stage theme (3/18/18)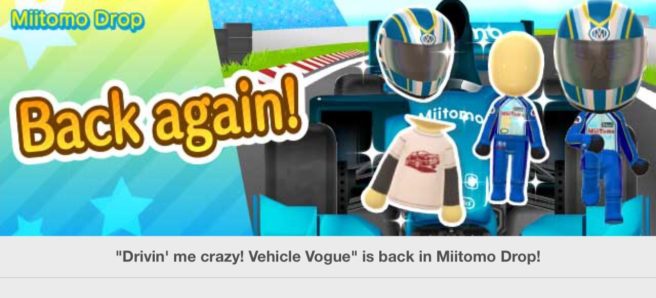 Miitomo has been updated with more content. Users will find returning stages with more items.
"Drivin' me crazy! Vehicle Vogue" is the returning theme. The stages provide the following:
– Lowrider layered tee
– Tire tread pants
– Auto-racing helmet (set)
– Auto-racing suit (set)
– Checkered flag shirt
– Checkered flag pants
– Checkered flag necktie
– Race car suit
– Car shoes
– Retro-car pin
– Pit crew headset (set)
– Pit crew suit (set)
The returning stage will be available until March 20 at 6 PM PT / 9 PM ET.
Leave a Reply