Miitomo updates: new Miitomo Drop theme, Everybody Answers question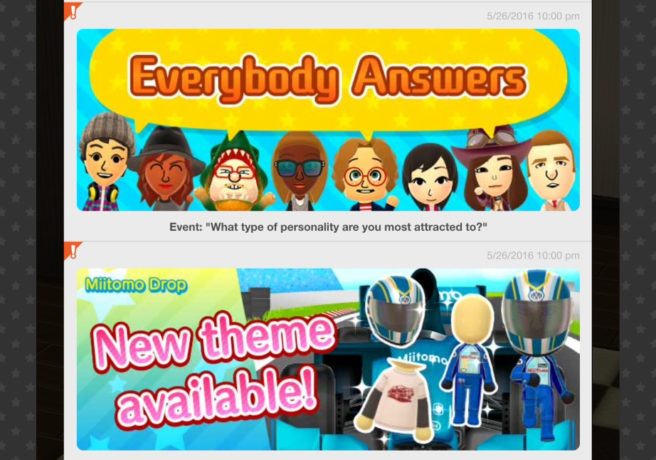 Nintendo updated its Miitomo app a short while ago with some new content. There's new clothing to be had via Miitomo Drop, plus a new "Everybody Answers" topic as well.
The new Miitomo Drop theme is "Drivin' me crazy! Vehicle Vogue". You can nab a bunch of racing-related gear, which is as follows:
– Lowrider layered tee
– Tire tread pants
– Auto-racing helmet (set)
– Auto-racing suit (set)
– Checkered flag shirt
– Checkered flag pants
– Checkered flag necktie
– Race car suit
– Car shoes
– Retro-car pin
– Pit crew headset (set)
– Pit crew suit (set)
With Everybody Answers, the new question is: "What type of personality are you most attracted to?" The event runs until June 3 at 4:59 PM PT / 7:59 PM PT. If you answer the question while it's active, you'll be provided with Miitomo Platinum Points on My Nintendo.
Leave a Reply