N++ dev talks about the factors involved with a potential Switch port, acknowledges fan interest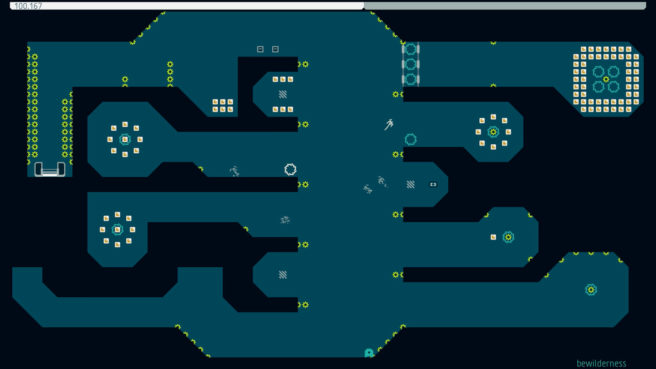 About a month ago, N++ fans on Reddit were looking to show their support and interest in getting the game on Switch. One of the threads on the site was hugely popular, prompting Mare Sheppard of Metanet Software to weigh in on things. He certainly left a lengthy response, to say the least.
Sheppard mainly talked about what the team would be dealing with if a port of N++ were to go through. Apparently, Nintendo "said they are focusing on games that will sell systems right now," so it doesn't seem as though the big N has offered the green light so far. The port itself would also require a great deal of effort.
The good news is that Metanet feels that "the Switch would be a great place for N++", especially given fan interest. Let's hope it happens at some point in the future.
Here's the full response from Sheppard:
WOW, thanks so much everyone, we didn't realize there was so much support for N++, and we are THRILLED to see that many of you also think that N++ would be a great fit for the Switch!

We think the local co-op and competitive MP would be so awesome, and N++'s bite-sized gameplay is perfect on the go, so we're really hoping to make this happen 🙂

For those wondering: it's not as easy as you think to port any game, let alone N++. For one thing, Nintendo has to give the go-ahead before we can get started developing or porting, and although we've been talking to them for a couple of months, they said they are focusing on games that will sell systems right now — to be honest, since WE didn't even know how much support there would be for N++ on Switch, it's pretty easy to understand how Nintendo wouldn't either. So this thread is super awesome — it's an easy thing to point to and be able to say "hey look Nintendo, people like the game and really want to play it on Switch! So can we make it?"

A lot of you are saying that N++ looks so easy to port, but this is unfortunately not true — it took an entire year to get from PS4 to PC because the game is written in C++ and is in a custom engine, which is much more difficult to port than say, Unity. Also, the graphics only LOOK simple — they're vector graphics rendered using bespoke shaders to create the buttery smoothness the game is known for, and as a result the rendering system is quite complex (we learned this the hard way, this is why vector graphics are so rare in game dev!). If we could go back in time, we certainly would have made different decisions, but this is the reality we have to work with.

Some of you may know that N++ is the last game in the N series we will ever be making; we've put everything we have into it and intend to continue to support it and port it to more platforms if we can, because we think it is a killer game that more people need to know about. Since porting to PC, our programmers have made many changes to the codebase to help make porting easier in general — we're optimistic that porting to Switch will not take nearly as long as porting to PC. Of course, we will need to hire someone to do the port since Metanet is just a tiny team of two (I'm half) and we've already got full-time work due to a bunch of irons in the fire. Plus, we're Switch noobs, so if we were to do the port personally it would take years to get up to speed and get it done. That's why we want to go with a porting team.

And finally, the cost — it's not that we need Nintendo to help pay, it's simply that the money needs to come from somewhere. We put everything we had into N++ development because we believed in it so hard, and we're still in the red. We think expanding the audience will eventually help, but it's tough because we need money to get to new platforms. And of course, we can only bring the game to platforms where it's reasonably likely we'll at least break even — which is another reason this support is so great to see! It has shown us that without a doubt, the Switch would be a great place for N++ 😀

And so, we will not give up in our quest to get it there. We have a few leads to chase down with respect to funding the port, and after that will consider things like crowdfunding too.

To those of you wondering how you can help –first of all, THANK YOU! In general, spreading the word about N++ is the biggest gift you can give us. And if we can get the money together to fund the port, the best thing you could do is to buy N++ on Switch, and if you can, buy it again for a friend, to help boost the numbers and show that it was a great thing to do 🙂

Thanks so much, all of you, for your kind words about N++, and for your support: we really, really appreciate it, and we are so glad to hear you're enjoying N++. That warms our hearts <3
Leave a Reply