N++ Ultimate Edition finally coming to Switch, out this month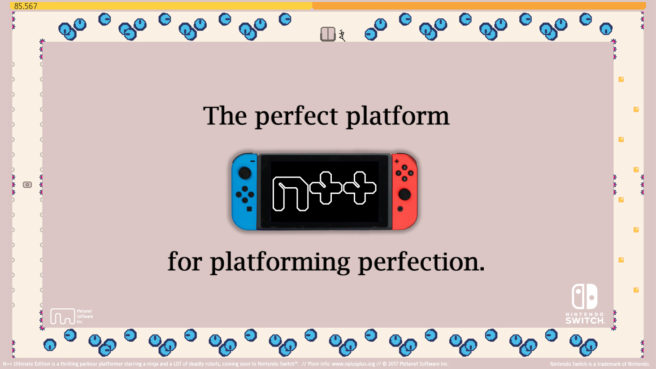 Metanet Software has confirmed that N++ Ultimate Edition will finally be releasing on Switch. The game isn't too far off, as we'll be seeing it on May 24.
Find today's announcement in full below. We have a new Switch trailer attached as well.
TORONTO (May 11, 2018) — Metanet Software is proud to announce that N++ Ultimate Edition is coming to the Nintendo Switch console on May 24, its most perfect platform yet. N++'s bite-sized play sessions are ideal for gaming on-the-go, and the exhilarating local co-operative and competitive multiplayer are *Italian chef kisses fingers*.

We've stripped down the classic 2D platformer to the core elements and injected some parkour acrobatics, so every moment you'll spend playing N++ is intuitive, thrilling, and pure fun. The control of N++'s ninja is where the gameplay really shines — as you play and your skills grow, your ninja feels more and more effortlessly badass.

It may be minimalist on the outside, but we've packed a ton into N++: revel in over 100+ eye-catching Funlockable™ colour schemes, and bask your ears in the splendor of over six hours of the best futuristic, atmospheric electronic music from boutique labels around the globe. There are 4340 hand-crafted levels in all that will keep you playing for days.

Play with friends in local multiplayer Co-op and Race (Competitive) modes with the Nintendo Switch Joy-Con controllers! You won't find a multiplayer game that tests the limits of your friendship quite like N++. Or, play through the lengthy and challenging Solo and Hardcore campaigns (filled with ingenious secrets galore). And if that's still not enough, you can create and share your own devious levels with players worldwide, using the built-in level editor. The possibilities are literally endless!

We at Metanet Software have been dedicated to making N++ a game that you can return to again and again, over a lifetime, and it will continue to feel exciting and rewarding. We've teamed up with Blitworks to bring it to Nintendo Switch and finally make the dream of playing N++ everywhere a reality! If N++ were a boss, this would be its final form, and the toughest challenge yet. You don't want to miss it!

"A deeply nuanced, super-challenging platformer beautifully crafted in stark vector graphics by a fiercely independent developer. Behind every aspect of N++ lies deep craftsmanship by developers with years of experience."
Leave a Reply