Nintendo answers a few questions about the Switch Lite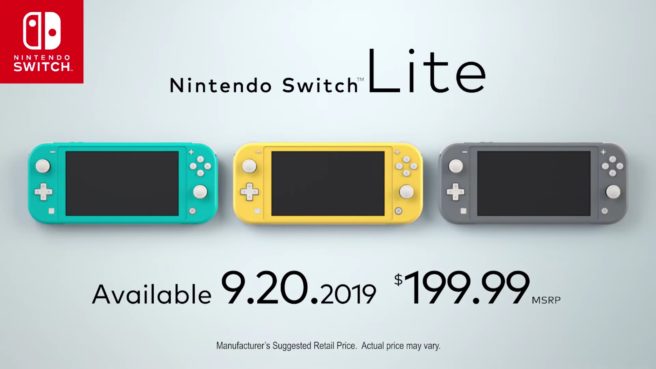 IGN recently sent over a series of questions to Nintendo about the Switch Lite, which the company was happy to answer. Topics include downloading and playing games across multiple Switch systems, Nintendo Labo support, and more.
Here's the full rundown:
Q: With the Switch Lite announcement, are there any changes being made to the Nintendo Switch Online account system to consider current Switch owners who will either make the jump to the Switch Lite, or want to use two systems concurrently? Or will the system continue to work as it does at this time?

A: "Purchases can be downloaded and played on multiple Nintendo Switch or Nintendo Switch Lite systems by linking your Nintendo Account. Please note there are some exceptions when playing and starting games based on your Nintendo Account's designated primary and non-primary systems. More information can be found at [official Nintendo page].

"You can send your game save data from one system to another using the Transfer Your Save Data feature (please see the following link for steps [link here], or you can download your game save data cloud backups (please see this link) for supported games if you have a Nintendo Switch Online membership."

Q: Switch Lite will not work in docked mode, but will it still support charging through the official Nintendo Switch dock accessory, or other licensed third-party accessories?

A: "Users will need a USB Type A – Type C adaptor to use USB accessories. Nintendo recommends using officially licensed accessories."

Q: Is battery life on the Switch Lite improved due to a change in the battery (does it have a larger mAh), or simply due to the energy demands of the Switch Lite?

A: "The Nintendo Switch Lite battery life has been slightly improved from Nintendo Switch, although battery life will continue to vary depending on how the system is used."

Q: Are multiple SKUs for built-in storage size planned, or will there just be a 32GB model?

A: "Nintendo Switch Lite has 32GB of internal storage."

Q: Will the Switch Lite support the same MicroSD, MicroSDHC, and MicroSDXC capabilities as the Switch, or are there any limitations?

A: "Nintendo Switch Lite has the same SD card storage as Nintendo Switch."

Q: Does Switch Lite support Nintendo Labo in any way?

A: "By wirelessly connecting Joy-Con controllers (not included), you can play Variety, Robot, and Vehicle Kits although it may differ from the intended play experience and some Toy-Cons are not fully compatible. The compatibility with Nintendo Labo differs by product:
For Nintendo Labo: Robot Kit and Nintendo Labo: Vehicle Kit, consumers can play them by separately pairing Joy-Con controllers.
For Nintendo Labo: Variety Kit, the situation differs by Toy-Con.
For Nintendo Labo: VR Kit, Nintendo Switch Lite is not compatible with the VR Goggles, so it cannot be played.
"The flagship Nintendo Switch system is recommended to play Nintendo Labo."

Q: Will the OS/home screen be any different?

A: "No."

Q: Will entertainment apps like Hulu still work on it?

A: "Yes."

Q: The official Nintendo site says "For games that do not support handheld mode, players can wirelessly connect compatible controllers (sold separately) to Nintendo Switch Lite." Are you able to connect controllers for games that do support handheld mode as well, and does any of that support include Nintendo Switch Pro controllers?

A: "Yes, Joy-Con and Pro controllers can be paired with the system."
You'll be able to purchase the Switch Lite starting September 20.
Thanks to Jake for the tip.
Leave a Reply