Nintendo discusses the number of annual playing users on Switch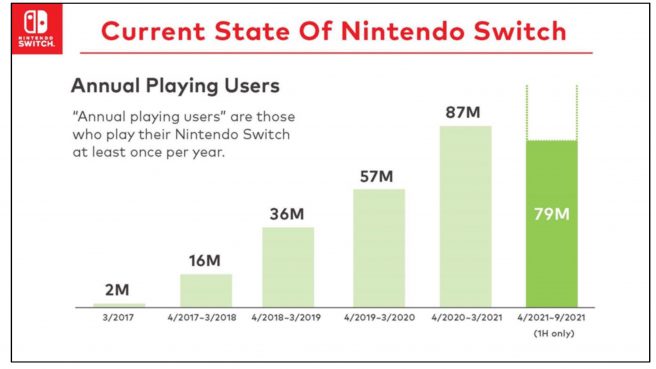 During a briefing pertaining to its financial results today, Nintendo president Shuntaro Furukawa highlighted the number of annual playing users on Switch.
As shown above, there's been a steady rise since the console first launched in 2017. Last year climbed to its highest point. For this year, Nintendo is on track to set another record.
Below are the full comments from Furukawa:
This graph shows the number of annual playing users. It indicates the number of users who play Nintendo Switch software between April and the following March, which is our fiscal year, out of those with Nintendo Accounts linked to Nintendo Switch systems.

There are cases where more than one Nintendo Account are connected to the same Nintendo Switch system, so the maximum number does not match Nintendo Switch sell-through.

Consumers have continued to play Nintendo Switch since its launch in March 2017, and the number of annual playing users has steadily increased. The number for this fiscal year has already surpassed 79 million during the first half, and it is expected more people will play Nintendo Switch throughout this fiscal year.
Leave a Reply