Nintendo on evergreen Switch software, Labo's performance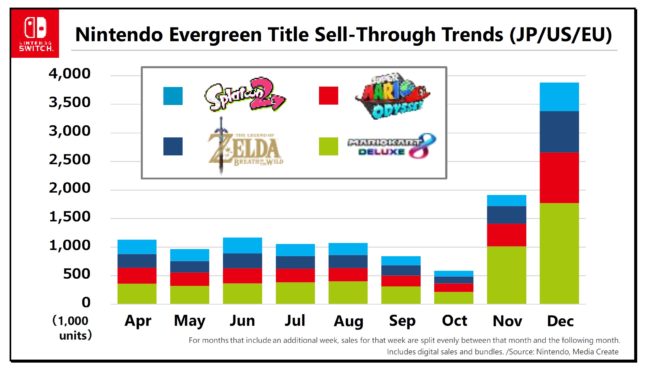 This information comes from Nintendo president Shuntaro Furukawa…
This chart shows the combined sell-through in Japan, the US, and Europe since April of 2018 for the four titles you see here. All four were released in the year before last, 2017. Sell-through of each title continued at a reasonable pace, then spiked upward toward the end of the year. As the spread of Nintendo Switch progresses, the number of new consumers is increasing. And to consumers who just purchased Nintendo Switch hardware, every existing title seems new. One of Nintendo's strengths is how easy it is for consumers with past experience playing Nintendo games to become interested in new Nintendo-brand titles. And if the steady sales of our evergreen titles can reliably support our overall software sales, we believe that will help fill any gaps between releases of new titles.

Nintendo Labo has been positively received as a "Nintendo-like" product since its announcement nearly one year ago. Sales of the three Nintendo Labo kits totaled over 1 million units worldwide as of the end of 2018. Before the first kits launched last April, we expected sales and consumer reception to be different from traditional video games like Mario or Zelda. Nintendo Labo has been incorporated into classes at 100 elementary schools across the US, and has received awards and acknowledgements from various domestic and international media, in categories of toys and of other general consumer products experiences. So, as we expected, it appears that Nintendo Labo has been accepted by our consumers differently than traditional video games.

[Note] Nintendo has partnered with the Institute of Play to introduce Nintendo Labo into 100 elementary school classrooms across the US for the 2018/2019 school year.
Leave a Reply