Nintendo shows off Switch's 2019 lineup, will continue with plans to keep games fresh over a long period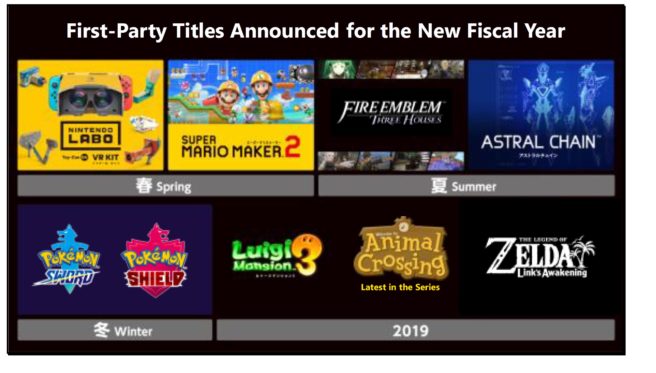 This information comes from Nintendo president Shuntaro Furukawa…
As you can see, we will constantly release new titles during the fiscal year ahead. And there are still more titles that we haven't yet discussed. We intend to continue to expand the lineup of software that can be enjoyed by consumers around the world and that will keep people playing Nintendo Switch.

In addition, we will continue with efforts designed to keep consumers playing software long after it has been released. For example, we released a major free update to Super Smash Bros Ultimate that adds a Stage Builder and the ability to edit and post gameplay videos, simultaneous with the release of the first set of paid add-on content this month. Mario Tennis Aces was released back in June of last year, but we have continued to hold tournaments and distribute new characters, and in a major free update added a new kind of gameplay, also this month. By releasing content online and holding events that build excitement for a game, we are making the game fresh for consumers and
encouraging them to keep playing.
Leave a Reply