Nintendo Switch Online Service details – SNES games with online play for members, more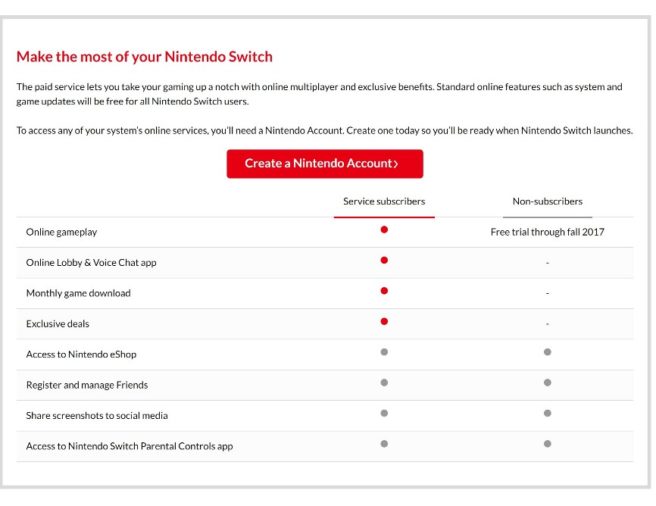 Paid service launching fall 2017
Free trial period starts in March
This service lets Nintendo Switch owners enjoy online multiplayer gaming as well as a dedicated smartphone app that connects to your Nintendo Switch system and helps you connect with friends for online play sessions.

Check back for more details on the service and its features after the Nintendo Switch system launches.

Available in March (Free trial)
Online Play on Nintendo Switch

You'll be able to play compatible co-op and competitive games online by signing in with your Nintendo Account. Online play will be free for Nintendo Account holders until our paid online service launches in fall 2017.

After the free-trial period, most games will require a paid online service subscription from Nintendo in order to play online.

This service is only for Nintendo Switch. It does not affect Wii U or Nintendo 3DS systems or online play.

Planned for fall 2017
Online lobby and voice chat

Our new dedicated smart device app will connect to Nintendo Switch and let you invite friends to play online, set play appointments, and chat with friends during online matches in compatible games?all from your smart device.

A free, limited version of this app will be available for download in summer 2017.

Monthly game download

Subscribers will get to download and play a Nintendo Entertainment System™ (NES) or Super Nintendo Entertainment System™ (Super NES) game (with newly-added online play) for free for a month.

Exclusive deals

Special offers for subscribers may include discounts on select digital games and content.
Leave a Reply