Online arena shooter Warshmallows heading to Switch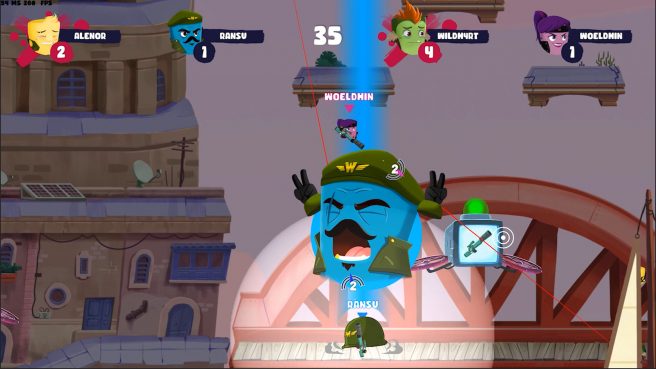 You Run, DigitalMania, and Bonus Stage Publishing have announced that the online arena shooter Warshmallows is in the works for Switch. It will reach Nintendo's console a bit after the initial launch in March.
Here's an overview of Warshmallows, along with a trailer:
Battle online in a captivating four-player arena shooter with endless amounts of fun, Warshmallows! Take control of your favorite Warshmallow and hop, dash, loot and shoot to be the last one standing. Twist the time with automated bullet time, survive the chaotic catastrophes and collect the donuts!

ONLINE AND LOCAL MULTIPLAYER
Warshmallows is all real-time four-player fun, either online with all people around the world, in your own lobby among friends, or locally sharing the same screen. Compete with pals and destroy friendships or queue up to cut down a world full of other Warshmallows – whatever you choose we trust YOU to collect 'em donuts and be the winner (and hero) the marshmallow world needs!

COMPETITIVE, CASUAL, THRILLING
To win a match you need to win five rounds against the other players. Sounds easy? Well easy or not, what it will be is chaotic for sure. There's stuff flying all over the place! When you get hit, a special type of sphere will take your Warshmallow in their embrace and you get to block, knock and zap the others who bullied you!

BEAUTIFUL ARENAS, EPIC SPECIAL MOVES
Shooting other players is a good idea. But if your trigger finger is a bit too snappy, you'll run out of ammo and if there's not any to spare then your only help is THE SLAP! Give the other Warshmallows a good smack in the face to try and throw them out of the arena. Your special move is up? Keep it at the ready as others might try and trick you with theirs! Run from shooters, slappers, and other surprises with triple jumps, dashes and strange portals. Oh, and watch out for the ELEPHANTS. Immerse yourself in the beautiful arenas and enjoy the head-boppin' soundtrack!
Warshmallows will be sold digitally for Switch via the eShop.
Source: Bonus Stage Publishing PR
Leave a Reply