Phantom Breaker: Battle Grounds Ultimate coming to Switch in 2024
Posted on September 23, 2023 by Dawn in News, Switch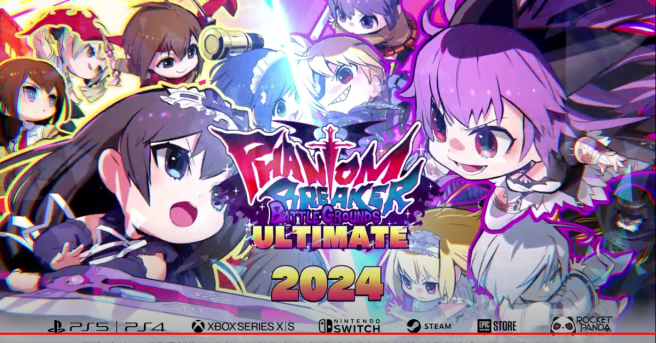 Rocket Panda Games has announced that Phantom Breaker: Battle Grounds Ultimate, a remastered version of the side-scrolling beat 'em up, will be coming to Switch next year. No exact release date was announced. The game has been rebuilt in Unreal Engine 5, and will feature enhanced visuals and new features.
Here's an overview of the game and a trailer, courtesy of Rocket Panda Games:

Story
A mysterious man known as the Phantom has awakened and hatches a plan to unseal his dark powers. By giving ancient weapons known as the F.A. (Fu-mension Artifacts) to youths with special abilities, he convinces them to battle each other with the promise to grant the wishes of the victors. However, each time the Fu-mension Artifacts are used in battle, they create a rift between parallel worlds, which will inevitably unseal the Phantom's powers.

Waka, the daughter of the Kumon Family, a clan tasked with protecting the world from the Phantom, and her friend Mikoto, attempt to stop him. However, in an alternate timeline the Phantom manages to escape and kidnaps Waka's younger sister, Nagi. Waka and Mikoto, along with Itsuki, self-proclaimed "Arbiter of Justice" and Yuzuha, a ninja unpersuaded by the lure of the Phantom, set off to rescue Nagi and stop his nefarious plan.

Key Features
– Revamped Gameplay: Experience smoother, more fluid gameplay with retuned battle system, ensuring that every punch, kick, and special move is executed with precision.

– Co-op and Online Multiplayer: Team up with friends in local co-op or challenge up to 8 fighters from around the world cross-platform.

– Playable Enemy Characters: Take on the role of powerful adversaries from the Phantom Breaker: Battle Grounds universe, each with their own distinct combat styles and abilities in Arcade Mode.

– Original Soundtrack Remastered: An all new soundtrack has been added to immerse yourself in the game's dynamic atmosphere and also includes all of the tracks from the original and Overdrive.

– Phantom Breakers All-Girl J-Rock Band Debut: All new opening song performed by the Phantom Breakers consisting of the in-universe characters, Mikoto, Waka, Itsuki, Yuzuha and Maestra.
Phantom Breaker: Battle Grounds Ultimate will release on Switch in 2024.
Leave a Reply