Pixel-art arcade adventure Battle Axe confirmed for Switch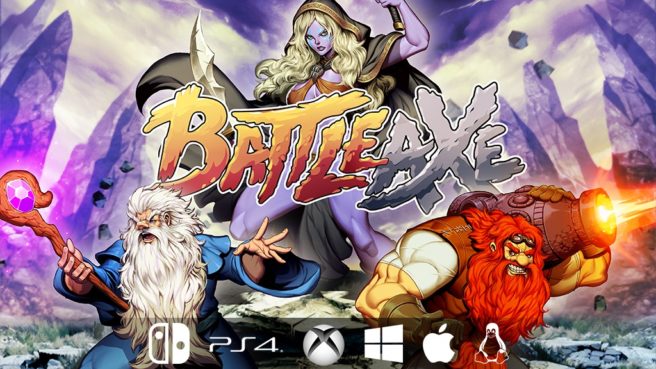 Following a successful Kickstarter campaign, the pixel-art arcade adventure Battle Axe has been secured for Switch.
Battle Axe is being created by Henk Nieborg. Nieborg has worked on games since 1990, including Lionheart, Flink, Adventures of Lomax (PS1), Harry Potter and the Chamber of Secrets, Contra 4, Shantae, Xeno Crisis, and more. This will be one of his first solo projects.
Here's Nieborg's pitch on Kickstarter:
I'm looking to Kickstart a game that I've wanted to make for many years now – "Battle Axe" – a top-down arcade adventure game which is largely inspired by Ed Logg's 1985 classic, Gauntlet, but also draws from the likes of Golden Axe, Dungeons & Dragons: Shadow over Mystara, and Knights Of The Round.

Battle Axe can be played solo or in local co-op by two people, with players choosing their preferred hero before embarking on their quest. Each hero has a projectile attack to tackle the enemy from afar, as well as a short-range attack, special abilities to give them a momentary advantage, and they can also can pickup items which have a variety of effects.

Although Battle Axe's gameplay will feel instantly familiar to fans of hack n' slash games, I am aiming to revitalise the genre with new gameplay elements, improved controls, amazing pixel art from myself (am I allowed to say that?), and a superb soundtrack by legendary VGM composer Manami Matsumae who previously composed the soundtracks for Mega Man, Final Fight, Area 88, Mercs, Magic Sword, Shovel Knight, and many other classics!
We also have the following video:
You can check out Battle Axe on Kickstarter here. The game is targeting a 2021 launch.
Leave a Reply