Pixel art narrative experience Verne: The Shape of Fantasy targeting Switch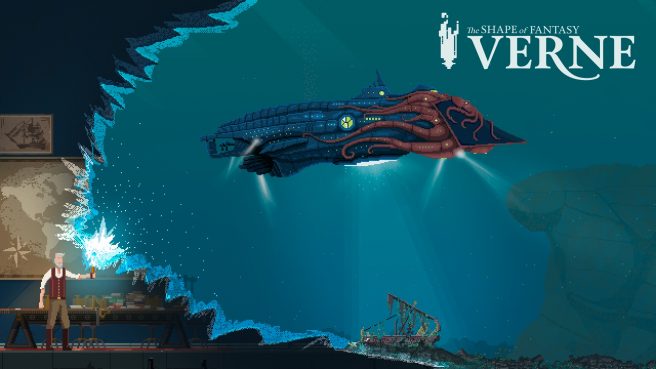 Gametopia has confirmed that Verne: The Shape of Fantasy, its pixel art narrative experience, is currently being planned for Switch. If all goes well, the title will arrive sometime in 2021.
Here's an overview of Verne: The Shape of Fantasy, along with a trailer:
Verne: The Shape of Fantasy is a pixel art narrative experience, based on the life and works of Jules Verne, one of the most famous science fiction and adventure writers.

Explore the enthralling and dangerous parallel world of Hemera, inside which Verne has been caught and live an adventure filled with surprises, interactive dialogues, puzzles and stealth actions.

THE GAME
A steampunk unexplored world, brought to life with a very detailed pixel art that offers a wide range of sceneries: from the Nautilus' dark corridors to ancient Atlantean ruins.
A thrilling story that reflects the ability of the human being to imagine and tell stories.
Easy-to-follow and attractive information about Jules Verne's life and works.

GAMEPLAY
Discover and master the IMAG, an Atlantean ancient device that allows to rewrite the story and change Verne's fate on certain moments.
Non-linear dialogues with a cast of exciting characters, performed by great actors.
Gameplay inspired by old school adventure games, based on exploration, platforms, puzzle-solving and interactive dialogues.

A THRILLING STORY
The war against the dreadful Nation is devastating the world of Hemera. Aboard the mighty Nautilus, Jules Verne, Captain Nemo and his courageous crew struggle, chased by a relentless enemy, to get hold of a mysterious formidable energy, capable of changing the course of history: the Flame of Hephaestus, source of the power of Atlantis and also, of her fateful destruction.

In his journey, Verne will not only discover wonders and mysteries, but also face a dark and powerful force that is trying to eradicate imagination across Hemera… and inside his own mind.
Source: Gametopia PR
Leave a Reply