Poker Club announced for Switch, features cross-play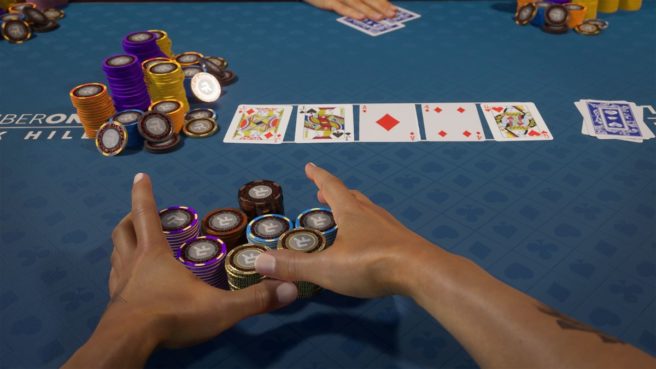 Ripstone Games today announced Poker Club, a new IP heading to Switch and other platforms. It will launch later in 2020.
Poker Club is designed as a social experience, and will offer tournaments for over 200 players. Cross-play will also be supported between all platforms.
Here's some additional information and a trailer:
Poker Club is designed as a social experience. In line with the increasing online community-led nature of the gaming landscape; Poker Club will connect players with friends and poker fans around the world, featuring tournaments for over 200 players. Players can create or join a club, complete with leaderboards, exclusive tournaments, daily chip bonuses whilst working towards shared goals that unlock rewards. Some customisable gear and events are club-specific, meaning the best way to play is together, connected with others from around the world. Poker Club will also offer cross-platform and cross-generation play, meaning players will be able to play together on PC, Nintendo Switch, PlayStation and Xbox platforms.

Poker Club offers players more ways to play than ever before with a full house of Texas Hold'em online tournament modes and ring-games. Players are invited to take on the challenge of the PCC Poker Tour, an immersive online career mode that takes players on a journey from back-room games to big-money main events. From Single-Table and Multi-Table tournaments to Freezeouts, Shootouts, Turbos, Super Turbos, Bounties and more, Poker Club offers a variety of online multiplayer modes featuring customisable private games, open tables and full-scale tournaments. With an advanced Poker 101 tutorial system featuring advice for beginners and advanced players alike, Poker Club offers a jackpot of poker fun for all.

Poker Club has been built from the ground up to offer an immersive play experience on all platforms. With a first-person viewpoint in gameplay, along with top-down cameras and cinematic angles, Poker Club delivers the true feeling of sitting at the card table like never before. There are 7 meticulously detailed arenas to play in, ranging from the grungy basement of Ralph's Pizzeria to the glitz and glamour of Casino d'Oro, whilst advancing through the ranks to become a high roller opens up access to high-stakes tournaments at the Intensity Arena, where the big money can be won. With deep player customisation options ranging from unlockable apparel to exclusive table items, the journey from back-room card shark to poker pro has never looked this good.
Source: Ripstone PR
Leave a Reply