Polygod hitting Switch on August 17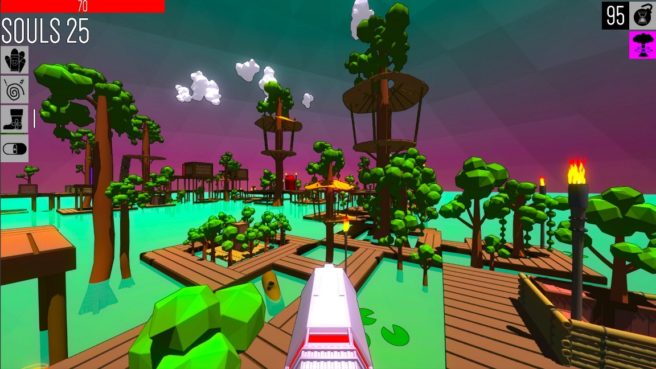 Krafted Games has determined a release date for its minimalist, rogue-like, randomly generated FPS Polygod. The game will be launching for Switch on August 17. Pricing is set at $14.99 / €16.59 / £16.19.
Polygod features "a brutal difficulty curve, epic boss fights with arena-shooter style online multiplayer/co-op and local multiplayer modes". Find more details and a trailer below.
Polygod features a different gameplay experience with each play session, the studio have implemented randomly generated level system that will challenge even the most hardcore of the hardcore! With incredibly deep weapon customisation and extensive multiplayer features including online and local multiplayer modes, Krafted Games believe gamers will find elements to keep them coming back for just one more run, over and over again.

Features

▪ Infinite level possibilities – maps are randomly generated and seeded providing a tonne of replayability, but then shareable among friends in order to encourage competition with full leaderboard support
▪ Brutal Difficulty curve – Only the most skilled gamers will ascend to Godhood…
▪ Online co-op and versus multiplayer – Allows for competitive fun to be had among friends featuring daily leaderboards. (Versus multiplayer not available on Switch.)
▪ Skill based gameplay – Built upon a principle that if one lacks skill, it can be substituted for strategy and vice versa. Eg. unskilled strategic players will be just as good as skillful nonstrategic players.
▪ Unique 'Blessings' based weapon customisation system – Combine and stack 'blessings' to create hundreds of thousands of unique weapons, blessings combine to give a high level of depth. Deep understanding is required to fully utilise the blessing system which in turn gives a high replay value
▪ Classic FPS controls – POLYGOD's controls are reminiscent of Quake 3 and the original Doom, bringing a classic gameplay vibe back having been absent since the 90's!
▪ Gyroscopic controls – Nintendo Switch version only
▪ Super fast paced and addictive – requires hundreds of hours to master, a speed-runner/hardcore gamer's dream
▪ Infinite level possibilities – maps are randomly generated and seeded providing a tonne of replayability, but then shareable among friends in order to encourage competition with full leaderboard support
▪ Brutal Difficulty curve – Only the most skilled gamers will ascend to Godhood…
▪ Online co-op and versus multiplayer – Allows for competitive fun to be had among friends featuring daily leaderboards. (Versus multiplayer not available on Switch.)
▪ Skill based gameplay – Built upon a principle that if one lacks skill, it can be substituted for strategy and vice versa. Eg. unskilled strategic players will be just as good as skillful nonstrategic players.
▪ Unique 'Blessings' based weapon customisation system – Combine and stack 'blessings' to create hundreds of thousands of unique weapons, blessings combine to give a high level of depth. Deep understanding is required to fully utilise the blessing system which in turn gives a high replay value
▪ Classic FPS controls – POLYGOD's controls are reminiscent of Quake 3 and the original Doom, bringing a classic gameplay vibe back having been absent since the 90's!
▪ Gyroscopic controls – Nintendo Switch version only
▪ Super fast paced and addictive – requires hundreds of hours to master, a speed-runner/hardcore gamer's dream
Source: Krafted Games PR
Leave a Reply