"Positronic Platformer" game C.A.R.L. coming to Switch eShop next week
Posted on September 23, 2022 by Dawn in News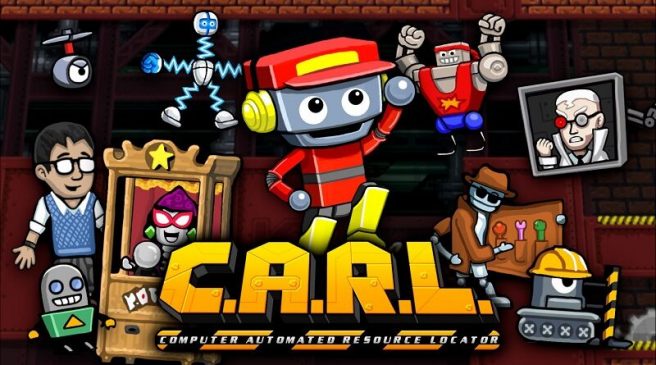 Publisher Morningstar Game Studio have announced that they will be bringing C.A.R.L. to Switch eShop next week, on September 29. Developed by Andrew Kenady, C.A.R.L. is described as a "positronic platformer" and sees you playing as the titular automaton in a blend of 2D platforming and RPG gameplay.
Here's an overview of the game, as well as the announcement trailer:
Created by Andrew Kenady, C.A.R.L. (Computer Automated Resource Locator) blends classic platformer action with quirky RPG and story elements for a lively quest across tech. Get in the shiny metal shoes of C.A.R.L. – a small but daring automaton lost within the sprawling Kent Industries. Brave each perilous factory floor to collect Tech Units for his engineer friend – unlocking new areas and abilities along the way. Befriend defective robots in the D.U.M.P. (Depot of Unusable Machines & Parts) and gather items to bring the facility's sinister secrets to light!

Classic 2D Platformer Gameplay: Hop, skip, and jump your way through clever gauntlets of platforming perfection!
Challenging Puzzles: Doors! Switches! Levers! Things that go on and off! We've got 'em all.
Tons of Secrets: Once you've upgraded your abilities, return to completed levels to find secret areas, hidden collectibles, and Easter eggs!
Charming Narrative & Characters: Meet the residents of the D.U.M.P. and lean on them to help you on your quest! C.A.R.L. will need all the help he can get to uncover the secrets and inner workings of the facility.
Original 'Electro-Chiptune' Soundtrack: Featuring 8-bit, DOS-era sound chip-inspired tracks that energize every step of C.A.R.L.'s journey.
C.A.R.L. will launch for Switch digitally via the eShop on September 29.
Leave a Reply