Procedurally-generated tactics title Battle Brothers coming to Switch in 2020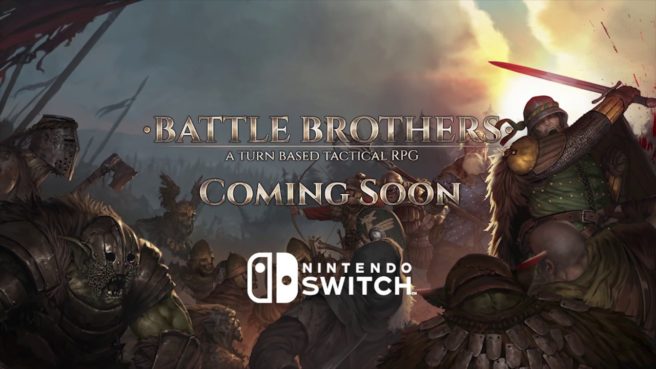 UKIYO Publishing and Overhype Studios today announced that Battle Brothers is heading to Switch. The procedurally-generated tactics title is due out later in 2020.
Here's an overview of the game, along with a trailer:
Having launched on PC to rave reviews in 2017, Battle Brothers is a turn-based tactical RPG in which players accrue their own mercenary gang in a gritty, medieval fantasy world. You decide whom to hire, where to go, what contracts to take on, and how to manage your private militia. Running a company requires blood, sweat and tears as you balance your budget, equip your crew, and do whatever it takes to put food on the table as you wander through this unforgiving world.

Once in combat, Battle Brothers is a different kind of tactical affair, as you position your players into place. They best be well equipped, however, as different weapons will have different advantages and disadvantages against the rogue gallery of cronies. Split shields with axes, stun enemies with a mace, form a phalanx with spears, or crush enemy armour with a war-hammer. Everything in Battle Brothers is permanent, so once you lose a soldier, they're gone forever. And if you lose your whole squad, it's game over! The world of Battle Brothers is rough and unforgiving, ensuring that the stakes are always high both in battle and in the monetary management outside of it.

In addition to all of Battle Brothers' tactical depth, UKIYO Publishing and Overhype Studios will release all DLC, including the Lindwurm, Warriors of the North, Beasts & Exploration, and Blazing Deserts expansions, adding a bevy of new gameplay mechanics, quests, creatures, equipment and more post-launch this summer.
Source: UKIYO Publishing PR
Leave a Reply