Raiden III X Mikako Maniax revealed for Switch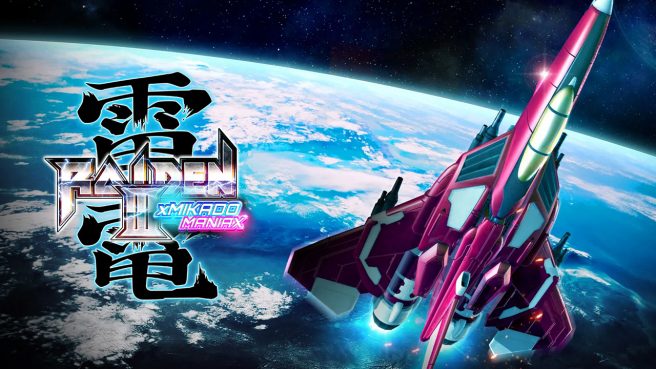 Retailer listings have outed Raiden III X Mikako Maniax, a new edition of the scrolling shooter for Switch. The game will release on February 23, 2023 in Japan.
Moss is planning a standard physical edition as well as a limited edition. The latter contains a diorama papercraft, two-disc soundtrack CD, and special box with a changeable jacket.
Thanks to Gematsu, we have the following overview:
Raiden III, a popular arcade and console shoot 'em up, debuts on the latest platforms with background music remixes by wonderful artists produced by Game Center Mikado. Each stage and boss battle is reborn with a different taste of SIDEA and SIDEB music arrangements. Featured artists include GoSatoBan, Heavy Metal Raiden, Fantom Iris, O.T.K., Soshi Hosoi, Daisuke Matsumoto, Cosio, Keishi Yonao, Ryu☆, Raito, and Yu Shimoda.

Key Features

New Elements Exclusive to Mikado Maniax – There are over 20 enhanced background music tracks! A new sound mode has also been implemented that lets you freely set the background music for each stage, allowing you to experience the world of Raiden III to your liking. There is also a wallpaper customization function and vertical screen mode for rotated displays, offering an even greater sense of immersion. A newly implemented hit detection display can be switched ON or OFF for more beginner-friendly play.
Easier to Play Game Modes – The game comes fully equipped with various game modes, including "Gameplay" mode, which is a complete port of the arcade game; "Score Attack Mode," in which players compete for the high score in each stage; "Boss Rush Mode," in which you encounter boss weapons one after the next; and more.
Online Rankings and Replay Uploads -The newly implemented "World Ranking Mode" features online rankings as well as a "Replay Publish" function that allows you to share your gameplay online. Share your personally recorded gameplay with players across the country, or study your rivals' gameplay. Utilize the game's online functionality to compete against players worldwide.
Raiden III X Mikako Maniax has not yet been announced for the west, but that news could follow at a later date. Fans can check out the official website here.
Leave a Reply